Stack3d Supplement Review: Velositol Superior Protein
Olympus Labs recently launched its first ever protein powder with the Velositol enhanced Superior Protein. The supplement features a blend of whey concentrate and micellar casein and as mentioned it is enhanced with Velositol, a branded ingredient that doubles the impact of muscle protein synthesis compared to protein alone.
Superior Protein comes in two different versions, each one having the same five flavor options to choose from. The two versions are regular and a Musclebuilding Edition, with both featuring the same protein sources and Velositol, except the Musclebuilding Superior Protein has added PharmaGABA to help improve lean muscle mass.
Review
All of the Superior Protein flavors have a touch of that signature casein graininess to them, however, it plays into the overall experience quite well. The flavors also communicate their title tastes very obviously, telling you exactly what they are right from the first sip, and they feature crunchy cereal pieces that make for a truly unique protein shake.
The five options that make up the Superior Protein menu are Toucan Twist (Froot Loops), Smash'n Crunch (Peanut Butter Cups), Not My Gumdrop Buttons (Gingerbread), Mocha Mermaid (Mocha Chocolate), and Why So Cereal? (Blueberry Pastry). While they all enjoyably deliver on their title tastes, two of the five flavors go beyond what we were expecting.
The Superior Protein flavors that we feel need a little bit of extra attention are the Froot Loops recipe Toucan Twist, and the Blueberry Pastry creation Why So Cereal? Both of them took us by surprise the second we tried them, and are hands down the best Froot Loops and Blueberry Pastry flavored protein powders we've had the pleasure of drinking.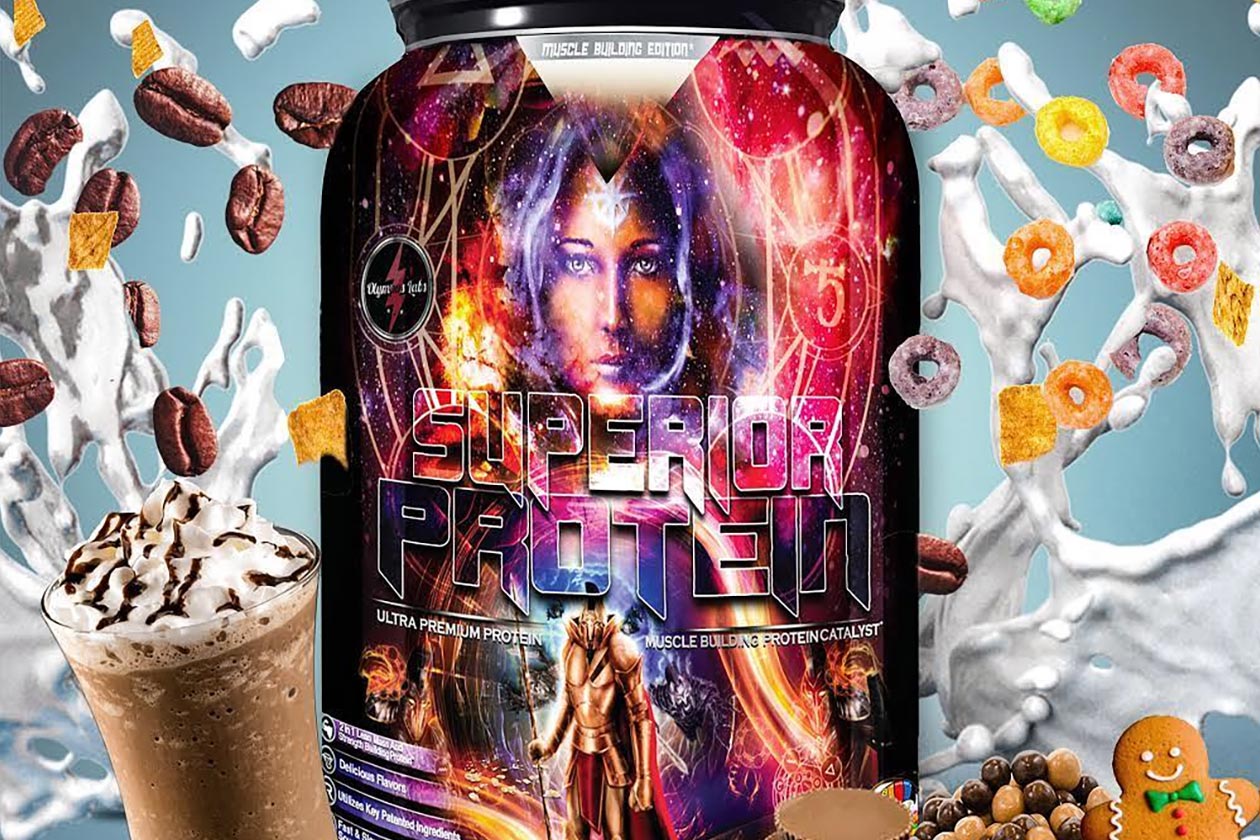 The thing that sets the Toucan Twist and Why So Cereal Superior Proteins apart is their sweetness. As soon as they hit your mouth, you get an incredibly on point hit of their title cereals, with a sweet and strong dose of Froot Loops milk in Toucan Twist, and a heavy dose of blueberry in Why So Cereal?
Summary
Like with all of the other Olympus Labs supplements we've tried over the years, Superior Protein delivers as advertised, in fact, it's fair to say it delivers beyond that. All of its flavors taste great and are exactly what they say they are, with a multi-texture experience that's addictively sweet and topped off with actual cereal pieces.
Head over to Stack3d for supplement reviews and more.
For more news and updates, follow Generation Iron on Facebook, Twitter, and Instagram.