Malaika Arora's trainer gives a peek inside her Pilates sessions; we couldn't have been more inspired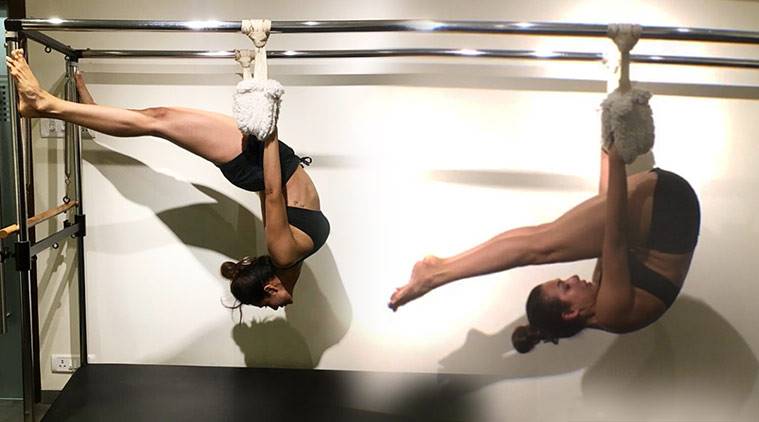 Malaika Arora during her Pilates session. (Designed by Nidhi Mishra/ Indian Express)
Malaika Arora rarely fails to give goals to fitness enthusiasts. From her flexible Yoga postures to the challenging Pilates moves, the 44-year-old sets the bar high when it comes to her workouts–her enviable frame is proof.
While she is a pro herself, first-hand praise from one's own teacher warrants a special mention, and Arora's trainer, Namrata Purohit, took to Instagram recently to shower the actor with appreciation for pulling off one of the most strenuous moves of Pilates.
Captioning them as "Here's some #MidWeekMotivation from @malaikaarorakhanofficial ? This was very well done Malaika ❤️," Purohit shared some pictures of Arora's workout on her account.
In the workouts, Arora is seen balancing her body weight on her arms, hanging from a handlebar. She then manoeuvres her frame into a variety of positions, which evidently require a lot of strength and concentration.
ALSO READ | WATCH: Malaika Arora and Sonakshi Sinha take the #fitnesschallenge, post videos of intense workout sessions
This is not the first time the Chhaiya Chhaiya girl has made hanging exercises a fitness fad. Earlier, we had seen her performing the hanging abs workout with finesse. While there are many variations of the exercise, Arora had been seen doing the Hanging Knee workout. Watch the video here.
This exercise targets the front abs, obliques, grip muscles – such as forearms and hip flexors – and creates stability and muscular tension in abdominals. The beauty of this workout is that it can serve as a basic bodyweight exercise to develop the abdominals and also incorporates movements needed for advanced bodyweight and gymnastic motions.
Motivated to hit the gym yet? Let us know if you would try this in the comments below.
For all the latest Lifestyle News, download Indian Express App