Try aqua yoga for strength, flexibility and calm in your life – Fauquier Times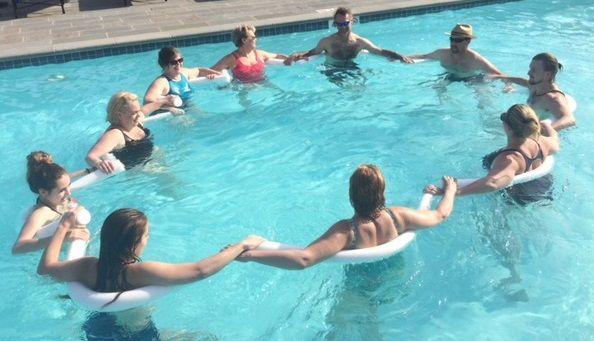 This summer, do something you may not have done before: yoga in the pool! Of course a lake, ocean or even a hot tub will do to give your body a new perspective on feeling stronger, longer, leaner and more flexible in both body and mind. Plus, you don't even know you are sweating when doing a class in the water. It's refreshing and invigorating, while beneficial for the muscles and joints.
Don't like getting in a swimsuit or being in the water? Take a deep breath: You don't have to swim, per se, just allow the water to work its magic to support your muscles. Also, there are rash guards you can wear or even swim tights to keep you feeling comfortable so you can truly enjoy the flow. All of my classes are done in shallow water and we use the hydrostatic pressure of the water to create support, boost circulation and help with balance. There are dynamic noodles we use that are not the lightweight kind you buy for the kids but instead are more durable and create extra buoyancy and add a bit of resistance for increasing strength. Often, I use them as you would a yoga strap to feel the stretch on a deeper level.
Yoga on land is sometimes intimidating and not always welcoming to all populations. Flowing in the water takes the stress off the joints a bit and yet challenges the muscles needed for balance. In a moving body of water, the current is constantly moving and the need to maintain stability increases. Posture improves as we work both with and against the current. Sometimes, we connect to each other to enhance the stretches and help awaken other muscles. My mission is to make it fun while we flow and grow.
Over the years, there have been several ways to exercise in the water. I've been teaching water aerobics for more than 10 years and have added Aqua Zumba, water boot camp and river walking to the list. Stand-up paddle board yoga (also known as SUP yoga) is one I have not yet added to my classes, but many of my colleagues teach it regularly. We have all grown since the days of Esther Williams and synchronized swimming! 
Needless to say, the options to strengthen your body, increase your flexibility, and help with core balance while in the water have more than doubled over the last few decades. Why not jump out of your comfort zone a little and come try a class? Your body will be healthier, your mind freer and your summer more relaxing. Whether you join me at the WARF, Salamander Spa & Resort, or in the privacy of your own pool, give yourself the gift of letting go of judgement and let's float our way to bliss.
For more information and a class schedule go to my website, www.monicafernandi.com.
Monica Fernandi is a yoga/fitness instructor and personal trainer. Visit her website at www.monicafernandi.comto read past blogs and testimonials and even jump into her exercise video library. You can also find her on social media at Monica Fernandi/GrowStrengthWithin for positive and uplifting wisdom.