Work on Kanye West's meditation space needs to stop, county says – Powell Tribune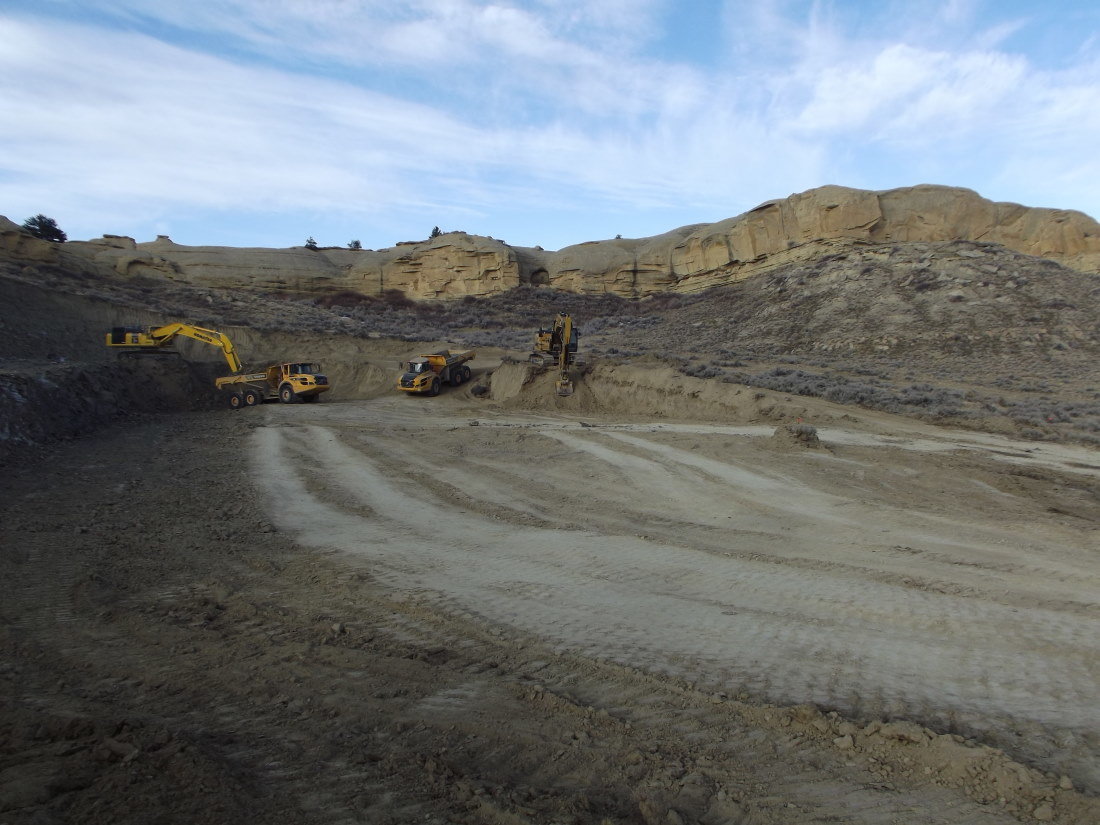 Park County Planning and Zoning officials are telling Kanye West and his representatives to stop work on a large, dome-shaped meditation space he's seeking to build on his ranch south of Cody.
Frustrated members of the county's planning board also rejected a permit for the project on Tuesday night. Their no votes came after West's representatives abruptly announced that the plans are being changed to make the 70,684-square-foot space part of a home for the musician and entrepreneur.
"I'm appalled at the abuse of our regulations and the complete disregard of them. That's just not OK," Park County Planning and Zoning Commission member Linda Putney said at the Tuesday meeting. "We have regulations for the public, of the people that live here. And so to come in here and tell us after pages of review, hours, to tell us that it's not even the same project? That's just not acceptable to me, at all."
West's representatives apologized for the last-minute change in the plans.
"His intent was not to throw a monkey wrench in this and waste people's time, I assure you that," said Point Architects owner Kane Morris, who's working on West's project. "But the fact of the matter is that he did change his mind. Again, we're people, we make mistakes, maybe this is the wrong time to do it, but irregardless … we will talk to him and get that solidified so we're not wasting time or doing that stuff."
The project — which had been preliminarily reviewed by multiple government agencies — will now basically go back to the start of the county's planning process.
County regulations require a special use permit for any structure larger than 10,000 square feet, but crews have already begun moving a substantial amount of dirt at the site. Landowners can do some prep work before a project is approved, "but not to that extent," said Park County Planning Director Joy Hill.
The planning office told project leaders that they needed to halt the work until they obtained a permit, but the operations continued, Hill said.
"… that activity absolutely needs to stop," she told West's representatives at Tuesday's meeting, adding, "That activity cannot be happening without the proper permits."
Morris and the manager of West Ranch, Mike Arnold, said they'd tell the crews to stop immediately.
With it being the last item on the night's agenda, the Planning Zoning Commission didn't take up West's proposal until around 9:50 p.m. — after the board had spent nearly four hours going over four other, unrelated projects.
County planner Kim Dillivan then walked the board through a staff report on the meditation space. Along the way, he explained various concerns and questions that had been raised by entities like the Wyoming Game and Fish Department and the county's public works department; for instance, the Game and Fish expressed concerns about the project's potential impact on crucial mule deer winter range and on sage grouse. Dillivan also said the county was missing various information.
Before the board and staff could discuss those issues, however, Hill jumped in to say that she'd been informed earlier on Tuesday that the project had changed.
Zach Walters, who is West's new representative, confirmed the shift in direction, telling the board that West now plans to use the space as part of a residence.
"The site location would stay the same and [the] main dome would stay the same, but it would be adding other smaller spaces around it — bedrooms, corridor, bathrooms," Walters said.
The abrupt change — which will presumably mean adding utilities and a septic system — immediately drew the frustration of county staffers and planning officials.
Planning and Zoning Commission Chair Marion Morrison suggested the proposal was "entirely different than what we have in front of us."
Putney also voiced frustration about the changing names of the LLCs and representatives associated with the project.
After only a couple minutes of discussion, Morrison called for an end to the hearing, "because there's nothing here that resembles what we've reviewed and we don't know who we're dealing with."
Putney agreed, making a motion to "flat-out deny" the requested permit "with distinct prejudice." The five-member board voted unanimously to reject the permit.
Morris then spoke up to explain West had wanted to be upfront and explain the change in direction now, rather than making changes later.
"As far as what we represented [in the application], that's what was going to happen until he decided to change his mind. You know, again, people change their minds," Morris said.
Hill, the planning director, said her office would like to know West's long-term plans for his 3,248-acre parcel; she said county staffers have heard "lots of things circulating in the community."
Hill didn't elaborate on what kind of things she was referring to, but in one recent interview, West alluded to plans to create an Apple-like campus on the ranch for his sneaker and clothing company, Yeezy; West recently announced that he has moved the multi-billion dollar company's headquarters to Cody.
"We're very concerned about how those things collectively are going to be categorized and what will actually be allowed there [on the ranch]," Hill said. "… We just sincerely want him to know: Just please let us know what is your long-term intent so we can get it right the first time and move forward with everything being clear."
Park County Engineer Brian Edwards and other officials at the meeting also expressed a need for better communication and clearer points of contact for their questions.
"A project like this, it doesn't happen everyday in our world, you know," Edwards said. "If this was a large impact indoor arena or something like that, that's something we could get our hands around but there's so many things involved with this."
Both Morris and Arnold said that the speed with which the project moved forward made things difficult.
"Things will be right from now on," said Arnold, the West Ranch manager. "Let's give us a do-over on this and we'll get it right."
Hill said later that, as the meditation space goes through the process again, "we are going to have to be on the mark and it's going to have be clear, right from the get-go, before we set the hearing or anything."
"I mean, this is kind of like a big whammy and we don't want to have a repeat offense," she said.
This isn't the first time that planning officials have forced West to stop a unique construction project. In September, regulators in Calabasas, California ordered West to tear down some dome-shaped housing structures he'd built on his roughly 312-acre property there. West said at a Fast Company event this month that he'd been planning to remove the structures anyway, but was frustrated that regulators told media outlets about their orders to tear them down.
West said one reason he bought land in Cody is because the regulations "are way lax" in the area.