Here's Everything We Know About LeBron James' Diet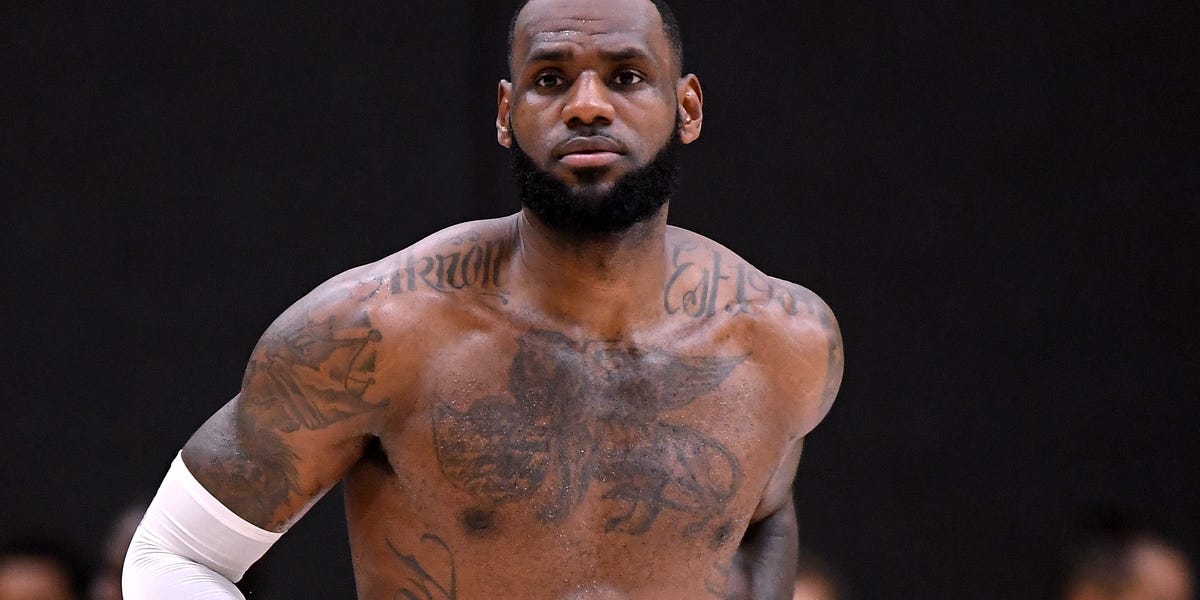 LeBron James is a beast, and there's plenty of information out there on the workouts that have helped him achieve G.O.A.T. status. But there's been less focus on what the 6'8, 250 lb., NBA star eats in a day to keep himself going. James has dropped tidbits about his diet over the years, and his social media posts reveal the different nutrition tactics he undertakes depending on what his needs are at the time.
Advertisement – Continue Reading Below
Here's how James evolves his diet, just like he evolves his gameplay.
LeBron James' Diet for Weight Loss
In 2014, James posted a picture in which he looked noticeably slimmer, which sparked rumors that the NBA player had switched up his diet.
According to Business Insider, ESPN's Brian Windhorst reported James was on a diet on a podcast with Grantland's Bill Simmons. Windhorst didn't confirm how he knew about James' diet, but the well-connected sportswriter has been covering the NBA player since his days as a high school freshman in 1999. He said James was probably in "the worst shape he's been in in a while" at the start of the 2013-14 season, and he got off to a "slow start" that season. That season came after he won the NBA Finals with the Miami Heat in June 2013 and got married to longtime girlfriend Savannah Brinson.
James himself poked fun at his diet with an Instagram post, and he opened up about it to reporters about a month later.
"I had no sugars, no dairy, I had no carbs," the father of three explained during an event to unveil his "LeBron 12" sneakers, as reported by Sports Illustrated. "All I ate was meat, fish, veggies and fruit. That's it. For 67 straight days."
Advertisement – Continue Reading Below
During that time, James ate meals like lobster salad with asparagus and mango chutney, as well as an arugula salad with chicken, fruit, and nuts, topped with olive oil and lemon vinaigrette dressing.
He was so dedicated to his diet, he didn't eat the dessert a resort made for him when he was on vacation in Greece.
Some outlets reported his diet was a low-carb one, while others said it was paleo, probably due to the fact that James' former Miami Heat teammate Ray Allen started a paleo diet in 2013. Both diets have a lot of overlap, with the guiding principle of limiting processed foods and foods high in carbohydrates, and instead reaching for foods like lean meats, fish, and vegetables.
Advertisement – Continue Reading Below
Advertisement – Continue Reading Below
LeBron James' Training Diet
NBA games run for 48 minutes, but that doesn't count when the clock is stopped for fouls and timeouts, or when games go into overtime. That's a lot of active time, and that means athletes need a lot of calories before the big game.
In 2016, James spoke with Business Insider about how he fuels up before game time. "Before competition for me would be like a chicken breast and maybe a little pasta. The carbs help because you're going out and playing a lot of minutes," he said. "But a salad and some veggies will have me perfectly fine. And before the game I might have a protein shake and some fruit, and I'll be ready to go."
Comparing himself to swimmer Michael Phelps, who is known to eat massive omelets, stacks of pancakes, and full-size pizzas during training, James said he'll "wait for that after the game. I can't do that before the game."
And as Stack reports, the NBA star slightly changes his approach when it's playoffs time. "The thing that I started cutting down is the sugars. When it comes to the playoffs, it kinda slows down the process of recovery. Throughout the regular season it's okay to have a little bit of it. But in the postseason, optimal recovery—whoever can recover the fastest from game to game is going to put themselves in position to be successful the next game, he said during a video on his UNINTERRUPTED platform. "So the sugars I kinda cut out, but the carbs I kinda ramp up. Because you're losing so many calories, you're burning so many calories, burning all your energy throughout those games. So I kinda go heavy on the carbs because it gives you energy. It's worked for me."
Advertisement – Continue Reading Below
Post-game, James rehydrates with a combination of water and a carbohydrate-rich recovery fluid provided by his personal trainer, Mike Mancias, to replace fluids lost. As CBS Sports reports, this helps to refill his levels of glycogen, which is a stored form of carbohydrate found in the liver and muscle tissue that helps to provide the body with energy.
He then eats a meal with high quality-protein and carbs, much like his pre-game meal.
James was also known to get drinks from The Juice Spot post-workout. The now-closed juice shop was owned by his wife Savannah, and it offered juices, smoothies, and acai bowls. The "Peanut Butter Dream" smoothie that James was seen drinking on his Instagram featured ingredients like almond milk, peanut butter, whey, maca, cinnamon, and agave.
LeBron James' Cheat Day Diet
Advertisement – Continue Reading Below
Advertisement – Continue Reading Below
If his Instagram is any evidence, James is known to enjoy a good glass of wine. He told ESPN that he drinks wine "pretty much every day," and former Cleveland Cavaliers teammate Kevin Love mentioned that James "has a supercomputer in his brain" when it comes to wine.
While studies differ, most doctors agree that when consumed in moderation, red wine has health benefits, from increasing your levels of good HDL cholesterol to lowering your risk of heart attack, hence why James hashtagged one of his photos, "#GoodForMyHeart."
Advertisement – Continue Reading Below
He often indulges himself at Blaze Pizza, as James is an investor, franchisee, and paid endorser of the made-to-order pizza company. In 2016, he shared a copy of his receipt when he ordered a pizza there, and his DIY pizza had a whopping 16 toppings on it — including, but not limited to, fresh basil, turkey meatballs, banana peppers, and kalamata olives.