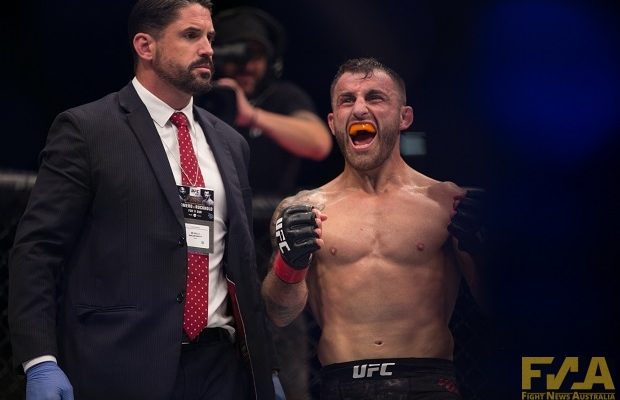 File photo of Alex Volkanovski following his win against Jeremy Kennedy (Source: Fight News Australia/Huynh Nguyen (Emperor))
Coming into the fight as an underdog many predicted Australian Alex Volkanovski to struggle against former UFC featherweight title holder Chad Mendes; whose career losses included Jose Aldo, Conor McGregor and Frankie Edgar.
You can add Alex Volkanovski to that list after the 30-year-old Shellharbour resident stopped Mendes at UFC 232 earlier today.
The event took place at The Forum in Inglewood, California.
Volkanovski and Mendes got the main card started in style. Early in the first round though, both had an extended feeling out process before they began to connect inside the pocket. Volkanovski thwarted a takedown attempt. A second takedown attempt late in the round put Volkanovski though he wasn't there long and scrambled back to his feet immediately.
The tempo increased dramatically in the second round with 33-year-old Mendes rocked Volkanovski with a short right hand. Mendes rushed in with strikes, briefly dropping Volkanovski again before the Aussie regained his composure drilled Mendes with a right of his own. Mendes again secured a takedown but within seconds Volkanovski has smartly popped back to his feet.
OH Mendes rocks Volkanovski here in round 2! #UFC232 pic.twitter.com/PgjeqJX2JX

— UFC (@ufc) December 30, 2018
Wouldn't be long before Volkanovski threw a body-head combination that dropped Mendes on all fours. Volkanovski immediately pounced landing some heavy blows to force the referee stoppage.
The win coming 4:14 of the second round as Volkanovski moves his record to 19-1 (UFC 6-0). Both would pocket an extra US$50,000 for Fight of the Night honours.
The win puts Volkanovski in title contention and he believes he has the perfect style to dethrone the current UFC featherweight champion, Max Holloway.
VOLKANOVSKI HAS ARRIVED!!!#UFC232 pic.twitter.com/f874DKcP2e

— UFC (@ufc) December 30, 2018
"I'm one of the most powerful guys in this division and I'm put together better than anyone in his division. I just want to shoot up these ranks," Volkanovski said in his post-fight speech.
"I'm Max Holloway's worst nightmare," Volkanovski said while apologising while attempting not to be disrespectful.
"I've got a lot of respect for Max Holloway, I really do. He's a gangster, I absolutely love what he does in there but, the fact he's such a gamer he'll stick to what I'm so good at, in the pocket."
Fellow Australian Megan Anderson's bout on the preliminaries ended under strange circumstances when the toe from the Anderson's head-kick went into the eye of her opponent Cat Zingano. In pain, Zingano immediately stopped fighting and with the strike not being illegal, referee Marc Goddard encouraged Zingano to continue. Further strikes from Anderson ended the contest.
The win was only 1:01 into the fight as Anderson recovered from a promotion debut loss to Holly Holm.
"I know this stoppage was a little strange, and if people think I need to prove my position in the top of this division I'm happy to give Cat a rematch. If not, I'm ready to get tonight's co-main event winner," Anderson told the crowd post-fight.
Amanda Nunes proved herself as the baddest women's fighter on the planet as she dismantled Cristiane "Cyborg" Justino in the co-main event in only 51-seconds. It took only 51-seconds for Nunes to add the UFC women's featherweight title champion to the bantamweight she already held to become the first two-division women's champion in UFC history.
Jon Jones scored another win against Alexander Gustafsson and made it look easy as he recaptured the recently relinquished light-heavyweight title.
Main Card:
Jon Jones def. Alexander Gustafsson via KO (Punches), Rd 3, 2:02 – UFC light-heavyweight title
Amanda Nunes def. Cristiane Justino via KO (Punch), Rd 1, 0:51 – UFC women's featherweight title
Michael Chiesa def. Carlos Condit via Submission (Kimura), Rd 2, 0:56
Corey Anderson def. Ilir Latifi via Decision (Unanimous)
Alexander Volkanovski (Australia) def. Chad Mendes via TKO (Punches), Rd 2, 4:14
Preliminary Card:
Walt Harris def. Andrei Arlovski via Decision (Split)
Megan Anderson (Australia) def. Cat Zingano via TKO (Eye-Injury), Rd 1, 1:01
Petr Yan def. Douglas Silva de Andrade via TKO (Corner Stoppage), Rd 2, 5:00
Ryan Hall def. B.J. Penn via Submission (Heel-Hook), Rd 1, 2:46
Nathaniel Wood def. Andre Ewell via Submission (Rear-Naked Choke), Rd 3, 4:12
Uriah Hall def. Bevon Lewis via KO (Punch), Rd 3, 1:32
Curtis Millender def. Siyar Bahadurzada via Decision (Unanimous)
Montel Jackson def. Brian Kelleher via Submission (D'Arce Choke), Rd 1, 1:40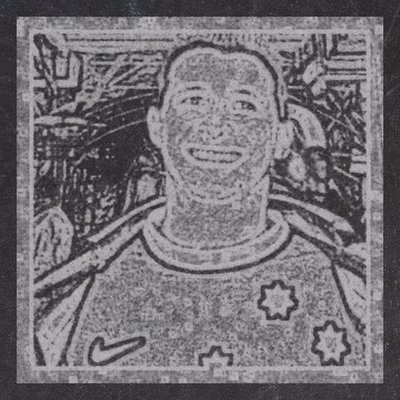 Started Martial Arts training after watching Mr Miyagi and Daniel-son in Karate Kid back in 1987. When the sport of MMA arrived many years later, it was a natural progression. Coverage of local MMA was via scarce posts on forums like the Underground and Sherdog. I embarked on covering the sport in 2002 and since then have written thousands of articles for both print and online media, before branching out and starting Fight News Australia in 2010. Outside the site, I dream of racing an F1 car and hiking the Swiss Alps. Most of all, my family is numero uno.