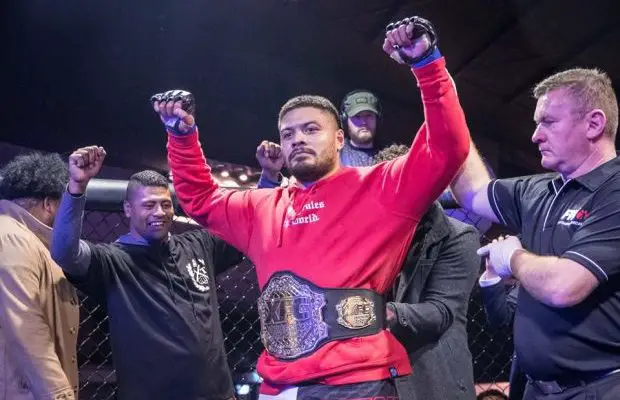 Pictured: Justin Tafa after earning the belt at XFC 36 (Source: XFC/Facebook)
Under new management, Queensland promotion XFC returns on Friday night with their heavyweight champion Justin Tafa making his first title defence against David Taumoepeau.
The bout will headline XFC 41 taking place at the Mansfield Tavern on Brisbane's southside.
Justin Tafa brings a 2-0 record to the cage but don't let that inexperience turn you away with the heavy handed heavyweight a regular training partner of Tai Tuivasa, Mark Hunt and his brother, ranked Glory kickboxer, Junior Tafa. In just his second professional bout, Justin needed only 28-seconds to knock-out Jeremy Joiner to claim the XFC title back in July. Next up in his way will be Canberra based David Taumoepeau
Nicknamed 'DJ The Warmonger', Taumoepeau fights out of the Hill Sports Academy under the tutelage of Ben Edwards and Duke Didier. The 31-year-oldbrings a 3-1 record with his lone loss coming at the hands of Cameron Dempsey last year in HEX Fight Series. He bounced back earlier this year with a victory over Ugur Kocak at Monaro Fight Series. A win over Tafa on Friday will be the bigest of his career thus far.
Also on the four fight pro card, Sam Flint comes up against Sam Flint and Josh Robson Sr. clashes with Nathan Wilson while the exciting Dimps Gillies returns and will face Joey Karami.
Accompanying the pro card will be a 14-fight amateur card.
Fight Card (Pro):
Justin Tafa vs. David Taumoepeau – XFC heavyweight title
Sam Flint vs. Anthony Barbuto
Josh Robson Sr. vs. Nathan Wilson
Dimps Gillies vs. Joey Karami
Fight Card (Amateur):
Christian Merino vs. Bruno Playfair
Tim Schultz vs. Jordan Thomas
Viktor Lyall vs. Tai Hardy
Jamie Sporne vs. Michael Pritchard
Quinlan Kelly vs. Matthew Van Hoff
Luke Zilic vs. Panapa King
Tala Hellesoe vs. Kevin Sheridan
Liam Brewster vs. Mark Richardson
Tione Sage Uchiha vs. Coby Porter
Isaac Berndt vs. Auston Eleftheriou
Trevor Sinclair vs. Craig Bright
Ryan Leavey vs. Marcu Foote
Alex Young vs. Nick Smith
Christopher Hanlan vs. Omid Al Amir
XFC 36: Justin Tafa & Jackson Small claim titles; Kaela Banney defends women's atomweight belt
XFC 39 Recap: After losing main event; amateur title fights headlined card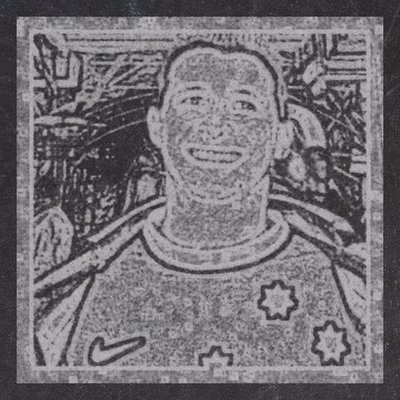 Started Martial Arts training after watching Mr Miyagi and Daniel-son in Karate Kid back in 1987. When the sport of MMA arrived many years later, it was a natural progression. Coverage of local MMA was via scarce posts on forums like the Underground and Sherdog. I embarked on covering the sport in 2002 and since then have written thousands of articles for both print and online media, before branching out and starting Fight News Australia in 2010. Outside the site, I dream of racing an F1 car and hiking the Swiss Alps. Most of all, my family is numero uno.