From the dust of George Groves' painful defeat, Callum Smith rises as boxing's latest champion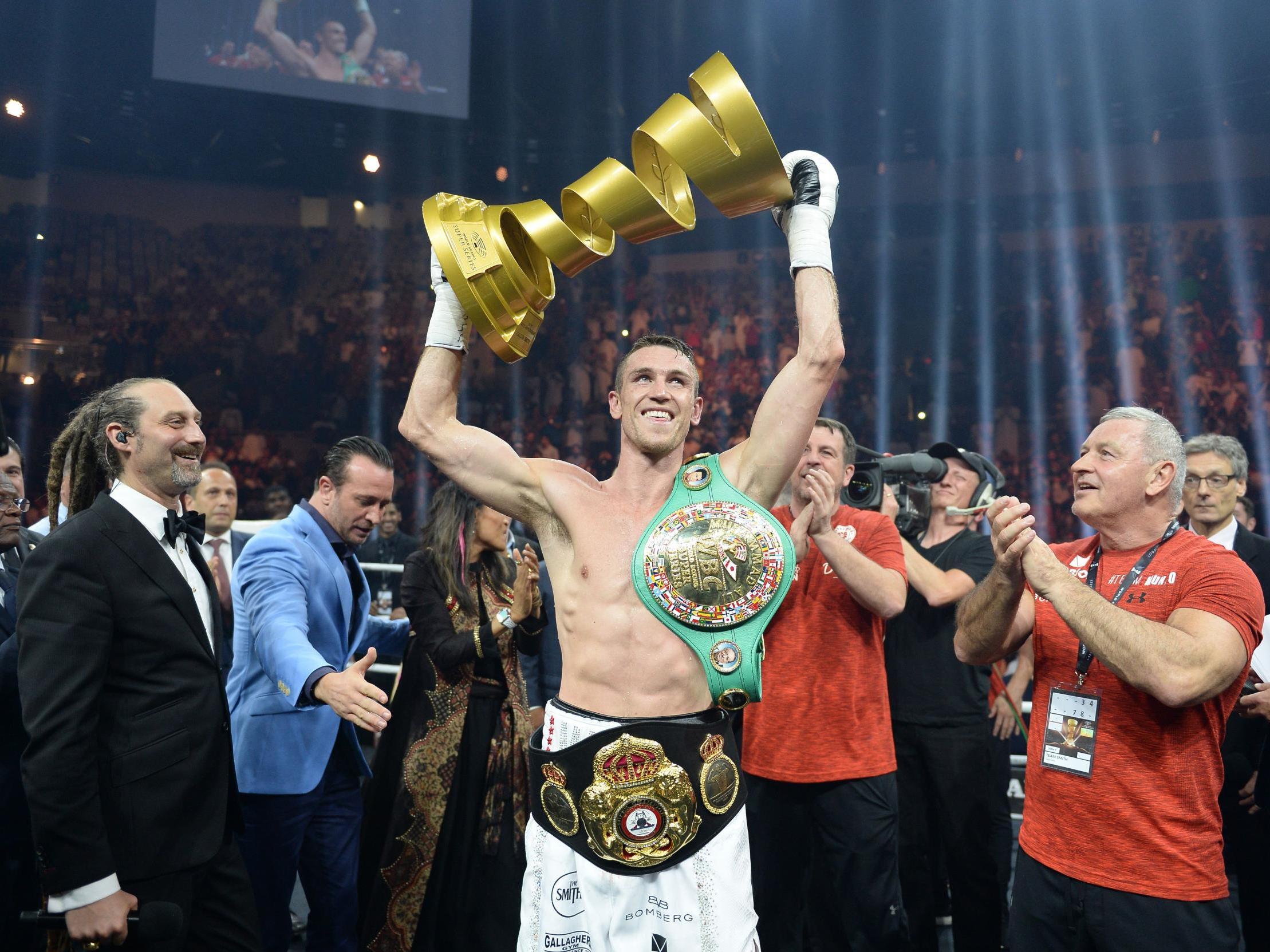 There was a moment of utter defeat on the face of George Groves a second before he was rescued by the referee from the fists of Callum Smith in round seven in Jeddah, the latest exotic outpost on boxing's expanding horizon, on Friday night.
Groves lost his WBA super-middleweight belt, a genuine title that he has won and defended in real fights, and Smith also left the ring with a collection of fistic jewellery that is as shamefully bling as it is totally meaningless. Smith required his three devoted brothers to each carry one of the baubles, which included the ludicrous Ring Magazine belt, the WBC's Diamond Belt and the vast, twisted gold chalice called the Muhammad Ali Trophy. Smith also left the ring with a title that thankfully defies jewellery and he is right now arguably the best super-middleweight in the world.
It was the final of the World Boxing Super Series, the brutal tournament that demands the best fight in rapid succession to determine the number one fighter at a specific weight, and it landed in Jeddah after a prolonged delay to let Groves recover from shoulder surgery. The shoulder was not, so Groves claimed, an issue, but he seemed reluctant to loop the left across, one of his favourite punches, and there was very little snap in his jabs. A damaged shoulder, a shoulder a fighter has no real faith in, can also ruin a boxer's balance. 
Smith was too big, too fresh, too powerful, had ring patience and fought like a man confident he would catch his opponent and put an end to the fight. He did, a sweet left hook that connected cleanly in round seven, sending Groves backwards, hurt, unstable and then a short right under the left elbow helped pour Groves to the canvas in a sad heap in his own corner. 
Groves shook his head in sorrow and pain, the last and hurtful act of a broken and conscious boxer, and stayed in a bundle on the canvas as the fight was waved off. It was close at the time of the stoppage, perhaps three rounds each, but Smith just looked so much more confident and threatening. It was clear from the opening seconds that Groves was not right and Smith, an instinctive fighter, clearly got a whiff of the same desperate scent.
"I was caught with the body shot and I've never been hurt by a body shot before in a fight," said Groves at the end. "I'm embarrassed by that. It was a good shot. I'm not retiring, I will just get some rest with my family. I need a break." Groves has been in out of gyms for over twenty years and in the stark lights of the Jeddah ring he looked old and vulnerable at times. 
Smith won for the 25th time without defeat, takes home the world title and there are a lot of good fights out there for him; his beloved Anfield is now a possible venue. He could give Groves a rematch, a fight that would sell in Britain and would be meaningful, especially if Groves admits the shoulder injury, which he dislocated in the last round of his win against Chris Eubank Jr in February, disrupted or ruined his training camp. It did – we just need Groves to admit it. 
There is also a fight with Chris Eubank Jr, a winner on the Jeddah undercard, and an attempt to unify the belts by chasing down and meeting the other champions. There is not a massive star at super-middle and Smith's promoter Eddie Hearn, who has commitments to promote about thirty shows each year with his broadcast partners on both sides of the Atlantic, could certainly find the finances from his hefty kitty to hunt down the other champions. 
A fighter of just 21 called David Benavidez is the WBC champion; a rough handful called Gilberto Ramirez, who is unbeaten in 38 fights and a southpaw, is the WBO champion; the IBF title is vacant because James DeGale threw the belt away rather than meet Venezuela's Jose Uzcategui in a fight with limited cash spoils. The WBA actually has two champions and their regular belt is held by Liverpool's Rocky Fielding, who in 2015 lost in the first round to Smith in a British title fight – a rematch would sell in 2019. A series of fights involving Smith and any combination of the champions or ex-champions could very well dominate the boxing scene next year.
In Jeddah the finer arts of the old sport gently surfaced in Smith's punch-perfect display, a win with few risks, accuracy, power and a swift viciousness when Groves became suddenly and irreversibly vulnerable. The finish was stunning for Smith and awful for Groves and his bewildered people; fights that end in ways boxers and their trainers thought unimaginable always leave the darkest and deepest scars. 
At the end Smith was bundled in the ring by his three fighting brothers, a collection of decent men with enough heart-breaking boxing stories to keep any soap lively. Paul has lost in three world title fights, Stephen has lost just two times for the world belt and Liam, after briefly holding he WBO light-middleweight title, has lost his last two world title fights; the four hugged and cried together before each taking possession of a glitzy trophy, a collection of fantasy trinkets that men and women in tailored suits deliver to faraway fights from the offices of the sanctioning bodies. Smith, at 28, is British boxing's latest champion and could become the finest in his next few fights and that is because he has the willing dance partners to make it happen and they are right now, trust me, starting to form a line. 
Follow the Independent Sport on Instagram here, for all of the best images, videos and stories from around the sporting world.