Tyson Fury vs Deontay Wilder press conference: Watch rivals trade barbs in New York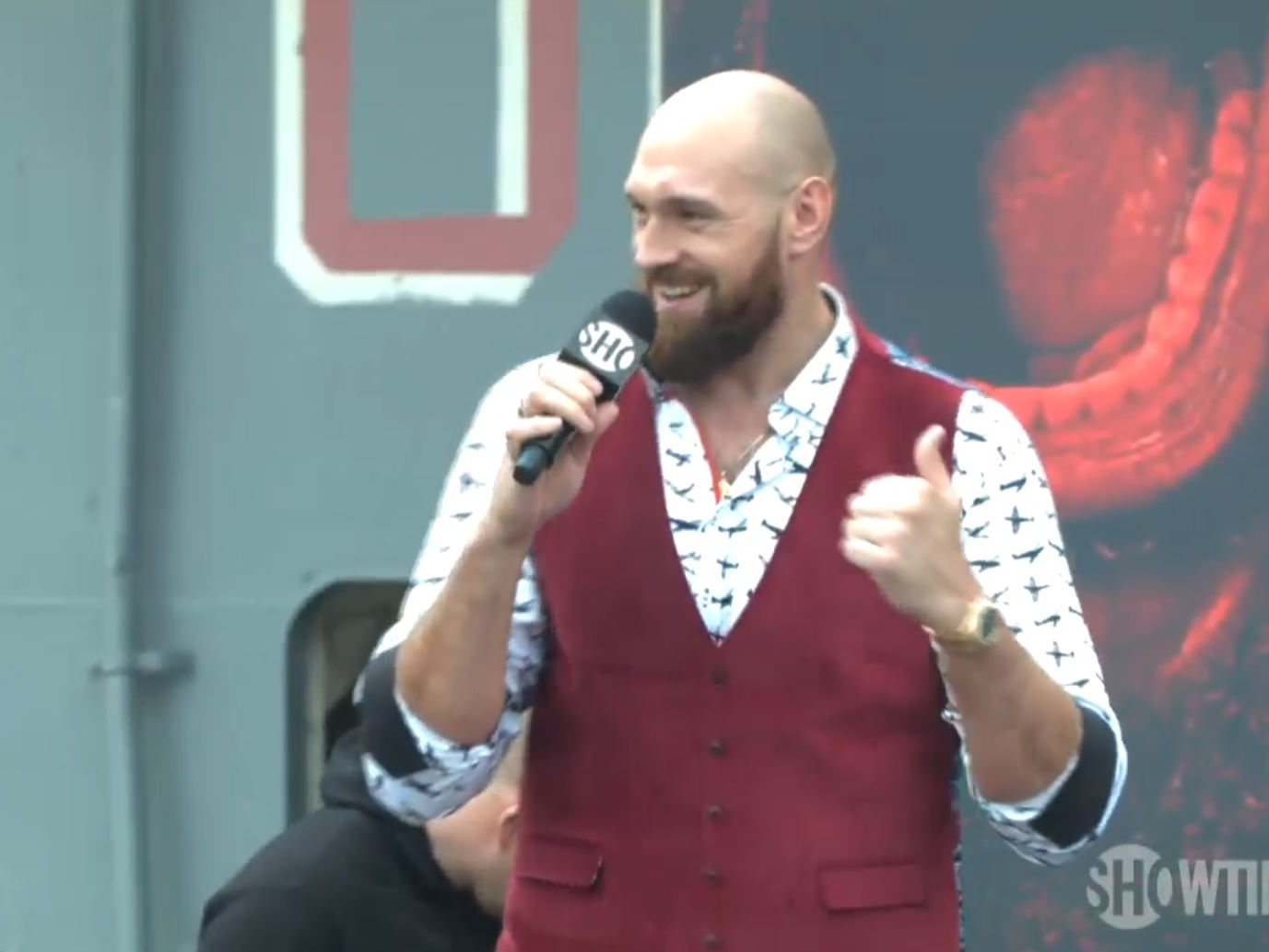 Tyson Fury and Deontay Wilder went head to head for the second time this week with a press conference in New York.
Spoiler alert: They both promised to knock each other out.
Relive the press conference by watching the above video, and scroll down for all of our witty comments preserved here forever.
The pair will finally be allowed to hit one another on 1 December, in Los Angeles.
---
What happened at the first press conference?
Fury accused Wilder of running scared and even claimed the WBC heavyweight champion is an awe of him, writes Declan Warrington. 
Fury said: "He hasn't got what he says he's got. I see fear in Deontay Wilder, I could sense his heartbeat through his suit.
"I know when a man's scared – Wilder's terrified of me. He's timid when he's around me – looks at the floor, doesn't make eye contact, all that sort of stuff. Even when he's around me, off-stage."
Fury has been accused of only taking such a dangerous fight, just the third of his comeback, for the significant purse he will be paid.
The powerful Wilder has stopped each of his previous 39 opponents, but Fury also believes that the American is wary that will not be enough.
"I don't need anymore fights," he said, having previously revealed he would have preferred a further warm-up before December, which could define his career.
"I don't need one more fight. If it's going to be his easiest fight then he should knock me out in one round, shouldn't he? With one punch.
"(Wladimir) Klitschko was a proven puncher who banged me right in the chin – it didn't do anything. He was catching me throughout the fight with big shots – it didn't do a thing.
"Everyone who's a massive puncher can't take one back, because they load up with everything, leave themselves wide open, and wallop. All of a sudden they're looking up at the stars.
"If I say I'm ready to fight, I'm ready to fight. If I wasn't ready, I wouldn't take the fight."
Fury had a similarly-aggressive exchange with Klitschko at the first press conference to promote the fight he unexpectedly won in November 2015.
It was later largely felt that he had got under the then IBF, WBA and WBO champion's skin, but Wilder said: "Guys try to get into my head because my mind's so strong.
"He thinks that by talking like he did with Klitschko, and getting inside his head, it's going to be the same thing, but I'm a different person. You can't do that with me."
Asked about a rumoured rematch clause in his contract, in the event of a Fury victory, and if that meant a rematch could take place in the UK, he responded: "There's a lot of things in the contract. Anything could happen – I'm going to fight over here eventually, one day, whether it's Fury, whether it's (Anthony) Joshua, whether it's (Dillian) Whyte."
Follow the Independent Sport on Instagram here, for all of the best images, videos and stories from around the sporting world.