Dereck Chisora leaves Dillian Whyte bemused by promising to 'go through him like a laxative'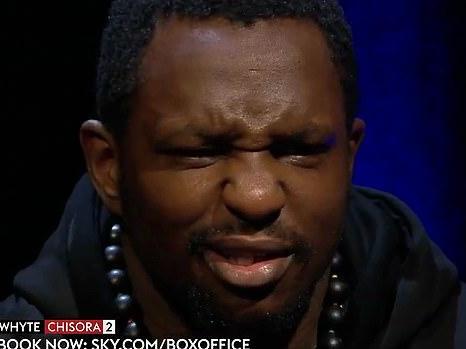 Dereck Chisora has sparked what may be the strangest war of words yet ahead of his rematch with British heavyweight rival Dillian Whyte by promising to "go through him like laxatives".
The bizarre statement came as the two prepare to face-off once again later this month in a repeat of what was one of the fights of the year back in December 2016, which ended in a split-decision going in Whyte's favour.
As part of the bout, which takes place at the O2 in London on 22 December, the pair took part in the regular 'Gloves are Off' promotion show that accompanies events being shown on Sky Sports.
Their first bout two years ago infamously saw the face-off programme cancelled when tempers flared and they nearly came to blows, with Chisora triggering the clash by throwing a glass of water over Whyte.
But this time around, things took a much stranger turn when Chisora compared what he plans on doing to Whyte to being a laxative.
"Have you ever taken those pills, the laxatives," Chisora said in front of Whyte and presenter Jonny Nelson.
"You know the ones you take, you pop and you wait for 20 minutes and then you go to the toilet and they go through you. I'm going to go through this man."
Whyte, clearly bemused by what his rival had just said, paused for a few seconds before responding: "That's a bit of a weird analogy isn't it?"
But Chisora stuck to his guns, replying: "Everyone knew exactly what I was talking about, I'm going to go through this guy."
Watch the video below…
While there is already plenty riding on the fight after their epic first encounter, this time a chance at Anthony Joshua's IBF, WBA and WBO heavyweight titles are up for grabs, with a bout slated on 13 April with the winner likely to face the British boxer.
Whyte has already faced Joshua once before, suffering an eighth-round knockout defeat in December 2015, but he has gone undefeated ever since and has already expressed his determination to gain revenge for the only loss in his 25-fight professional career.
Follow the Independent Sport on Instagram here, for all of the best images, videos and stories from around the sporting world.