Amir Khan interview: Brit on drawing inspiration from Tyson Fury and facing Kell Brook in his farewell fight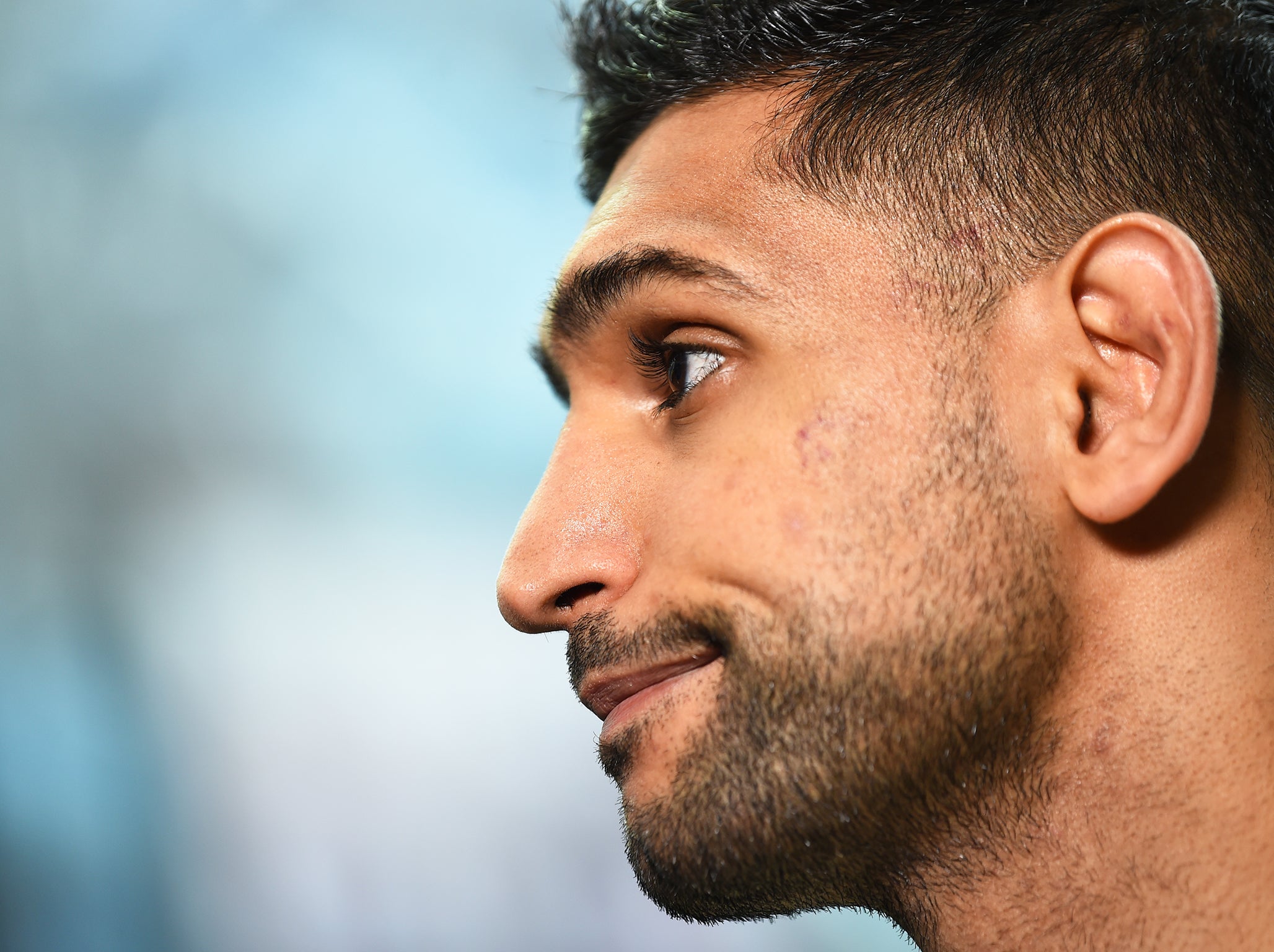 Tyson Fury's emphatic comeback to the sport of boxing has inspired his fellow Briton, Amir Khan, ahead of a 2019 showdown with either Terence Crawford or Kell Brook.
Fury plummeted into the depths of depression after his victory over Wladimir Klitschko in 2015, even coming close to killing himself the following summer. However he recovered and very nearly won the WBC heavyweight title last weekend, a triumph that has motivated Khan, who has also spent two years away from the ring.
After a seismic knockout defeat to pound-for-pound king Canelo Alvarez in 2016, Khan fell out of love with the sport that had given him so much, whiling away his troubled days with a series of family arguments and numerous other self-destructive trivialities. 
Join Indpendent Minds
For exclusive articles, events and an advertising-free read for £5.99 €6.99 $9.99 a month
Get the best of The Independent
With an Independent Minds subscription for just £5.99 €6.99 $9.99 a month
 "I had a big spat with my family, I wasn't really speaking to them and it can be a very lonely place, very lonely," he told The Independent. "It wasn't really depression but it was like confused with life."
"All the bad press I was getting puts you on a downer so really you come to a stage where you start hating yourself in a way because you're not in control," he said of some of the negative headlines being printed as a result of the details of his private life being made public. "You have an injury on your hand and I'm not in control with how it heals so I'm going through a lot of stuff and that was messing me up.
"I was going through silly things, not drugs or that side, but it was me just being living a single life and living boisterous and getting in trouble with going out with the boys on crazy holidays."
Determined to get his life back on track, Khan was fit enough to get back into boxing and beat Phil Lo Greco in 39 seconds upon his return to the ring, after signing for Eddie Hearn's Matchroom promotion company, a step to reignite his boxing career. And now he is beginning to prepare himself for a glamorous fight against Brook or Crawford in 2019, providing the Brit beats Michael Zerafa in Sheffield on Saturday.
Fury attributes a return to boxing as something that helped save him life and Khan is taking inspiration from his achievement. "We both went through a very tough time in our lives and how I came back, boxing kept me strong and focused, and the same with him. Boxing changed my life twice. Fury gives me inspiration and boxing is a positive sport, I feel confident to help boxing because of how many people it's helped, myself and fury and other fighters that have gone on to win numerous titles.
"Religion was very influential because when it got really bad and you don't know who to turn to but I turned to God and was praying and meditating, that really helped. Religion and boxing helped me get away from everything," he added.
Brook and Khan have been in discussions for an eagerly-anticipation fight in 2019 for some time, but talks have recently stalled with WBO champion Crawford instead catching Khan's attention. "If I fight for a title in the welterweight division with Crawford, that could be a future fight," he exclusively told The Independent, appearing to put the Brook fight on hold.
In truth – and despite Brook labelling him 'Amir Con' given he is appearing to look elsewhere – this is a fight that he is determined to make happen and chatter of Crawford entering the frame is seemingly Khan's way of increasing the pressure on Brook.
Khan waxed lyrical about the improvement of domestic boxing in the UK and says he wants to fight Brook at Wembley Stadium after seeing the success of Anthony Joshua fighting in the iconic arena.
Whatever he decides – his decision is likely to prove final. He freely admits that, as he approaches his 32nd birthday, he initially hoped to retire at 28 and his next fight could therefore be his final appearance. "That could be the last one" he said as he imagined staging a bout against Brook at Wembley.
The pair's relationship is fractious and it takes very little for them to lose their cool when discussing their opponent. "We're not friends," Khan put it lightly. "I don't want to get too much into it because we're under the same umbrella with Eddie Hearn and I don't want him to get upset."
Brook is following a similar road to redemption as Khan and entering the final chapter of his career after a pair of devastating defeats. He was stopped during a unified middleweight world title fight with Gennady Golovkin in September 2016, before suffering a similar fate at the hands of Errol Spence Jr a year later.
"I can't see that much left in him after having both his eye sockets broken and having his boxing broken," said Khan. "He's living a bit of a crazy life. I don't know if he's doing it for the money or I don't know what he's doing it for. Maybe that's one of the reasons he's fighting all these easy opponents because he knows if he fights someone half decent, the fight with me might be off. The only option he's got out there is me, other than me he's got nobody else.
"I'm speaking the truth and speaking the truth is going to hurt him and I'm breaking him down. Skill wise, I can out-box him anyway, and out-beat him," he added as he discussed the nature of the pre-fight build-up that can be expected ahead of the all-British bout. "He's not going to be nice, we're not friends, we've got to go in there and its business to us.
"He's going to do all of this talking and making out like I'm scared of, I don't understand what games he is playing. If he won't fight, I'll fight someone half-decent, someone who is going to test me so I can make a name for myself."
Khan was invited to be ringside of Brook's fight on Saturday by Sky Sports but declined and will instead spend time with his family on his birthday. He did, however, admit he will be quietly cheering on Brook and the big-money 2019 fight it will bring if he wins.
Amir Khan is launching the 'Ring the Changes' initiative with online financial trading broker ThinkMarkets (www.thinkmarkets.com) to support under-privileged young people across the UK through fundraising, mentorship, education and employment opportunities.
Follow the Independent Sport on Instagram here, for all of the best images, videos and stories from around the sporting world.