Josh Warrington vs Carl Frampton result: IBF champion retains title in fight of the year contender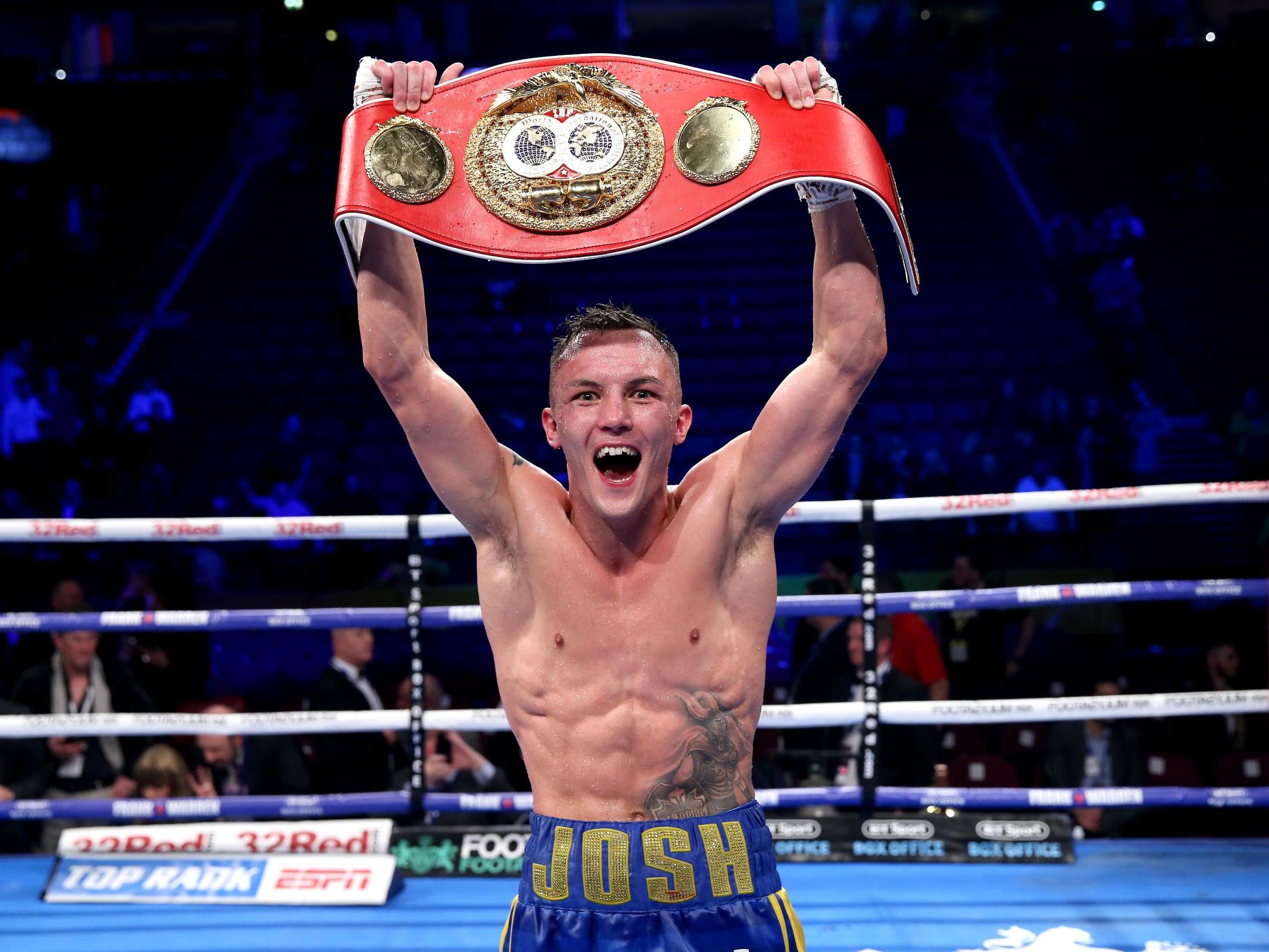 Beware the scorned fighter. Josh Warrington, still the IBF featherweight champion of the world after this sensational world title contest, may have spent much of this week dutifully parading his bright red belt in stadiums, gyms and shopping malls, but it has long had to jostle for space with a not insignificant chip on his shoulder. Warrington may have provided the bauble, but Carl Frampton was the favourite to win this fight with bookies and bettors alike.
Fortunately for Warrington, he has grown accustomed to playing the underdog. Staking his belt against Frampton's career, Warrington boxed with a surging verve and vigour, negating his opponent's world-class counter-punching skills in the only way he knows how. By going on the attack. The clear aggressor from the first round onward, Warrington produced a career best performance to first stun and then subdue Frampton, whose storied career now hangs in the balance.
If this is to be Frampton's final fight it will live long in the memory. Surely one of the greatest featherweight title contests of all-time, Warrington's aggression saw him win a unanimous decision. One judge scored it 116-113, the other two 116-112.
Join Independent Minds
For exclusive articles, events and an advertising-free read for just £5.99 €6.99 $9.99 a month
Get the best of The Independent
With an Independent Minds subscription for just £5.99 €6.99 $9.99 a month
As the verdict was announced, Warrington's loud and loyal claque exulted in their shared triumph. Their celebrations will extend raucously through the Christmas period, all the way until the new year, which could yet prove to be Warrington's finest in the sport. Léo Santa Cruz, Gary Russell Jr. and Óscar Valdez all loom alluringly on the horizon. The featherweight division heaves with world-class talent.
"It takes two to make a fight like that and I have always been a fan of his — I still am now," Warrington said in the ring afterwards, with a palpable throb of respect. "I want to keep what he said to me after the fight personal. But one thing he did say is good luck going forward and I hope you unify the decision.
Only in the brutal sport of boxing could a 31-year-old man so tantalisingly close to his physical prime taste defeat in such fashion. Frampton's plan was to rely, quite sensibly, on the counter-punching prowess that has taken him to the very summit of his profession, but as the rubbery Warrington began to dart in and out of his reach with impunity, he would perhaps have been better off exchanging his left glove for a lasso. He simply had no way of holding his rival at bay.
Stood sadly in the centre of the prize ring afterwards, Frampton was characteristically magnanimous. "Josh won the fight fair and square, absolutely. There are no excuses from me, I was in incredible shape and the better man won," he said with a rueful smile. "I hope he goes on to great things and unifies the division. I was fit and strong, and Josh was fitter and stronger."
Retirement is a possibility, despite the financial attraction of a rematch. "I have a young family at home and I have been in the game a long time. I'll make no decisions now but I'll sit down with my team and discuss what's the next move."
In truth, Frampton looked second best from the very first round, where the introductory pleasantries lasted precisely one minute. And after Warrington had indulged in the most cursory of scouting missions, he was away: menacingly closing the distance and winging in meaningful hooks from both flanks. The first that caught Frampton clean drew a smirk from the Irishman. The second wiped it clean off, another hurtful shot thrown in the blink of an eye that set the tone for what was to come.
To watch Warrington's lithe arms repeatedly shoot out into the smoke-rich air directly in front of him, pumping and punching like pistons, can give the impression that he is little more than a pressure boxer. Wrong — there is a method to the mania, each blow a careful, predetermined act delivered at eye-watering pace. The only hope of truly appreciating each shot is to strangle the Sky Plus Box to half-speed.
The next onslaught wasn't far away. Frampton's first meaningful success came with a well-timed counter in the second but Warrington saw it merely as an invitation to press forward. First a blur of leather on the ropes, where Warrington trapped his man only for him to neatly sidestep away. Then the chase: Frampton forced to reach deep into his fighting instincts as Warrington's stiff jab jumped roughly and repeatedly into his face.
Frampton's legs buckled. But he held on. There was scarcely time to breathe.
Warrington was everywhere, spreading himself across the ring like a man three times his diminutive size, cutting off all of Frampton's escape routes with the stifling intensity of an electrical fire. The rounds sluiced by in a blur of movement and, at some point, Frampton must have accepted with a sinking realisation that his rival had succeeded in making this his fight. A dogfight.
As the contest progressed there were shades of the old Frampton as Warrington finally — inevitably — began to tire. In a pulsating eighth round, Frampton caught his rival with a left-right combination landed on the counter before gritting his teeth and slugging it out: the face that wore a smirk at the beginning of the fight was now contorted in a crimson-stained scowl. Yet still Warrington held firm in the pocket and fired back, eyes fixed on the canvas, punching, punching, punching.
The exchange woke something in Frampton and set the precedent for a final round which laid bare the infallible heart and hunger of both men. Neither gave an inch and the fight ended in the exact same fashion as each of the rounds that preceded it: with a touch of the gloves and a warm — if disbelieving — smile. "I need these big fights to get me up for it," Warrington added. "And hopefully people will really recognise what I am all about now."
Never again will Warrington be made to feel an inferior opponent before a fight of this magnitude. Never again will he be underestimated and ignored. And if he were to retire tomorrow it would not be his wonderful victory over Lee Selby that he recollects when sat in a rocking chair with a blanket drawn up over his knees, but this, the night he went toe to toe with a two weight world champion and triumphed.
Follow the Independent Sport on Instagram here, for all of the best images, videos and stories from around the sporting world.