Dillian Whyte next fight: Brit reveals three-man shortlist as he ponders next opponent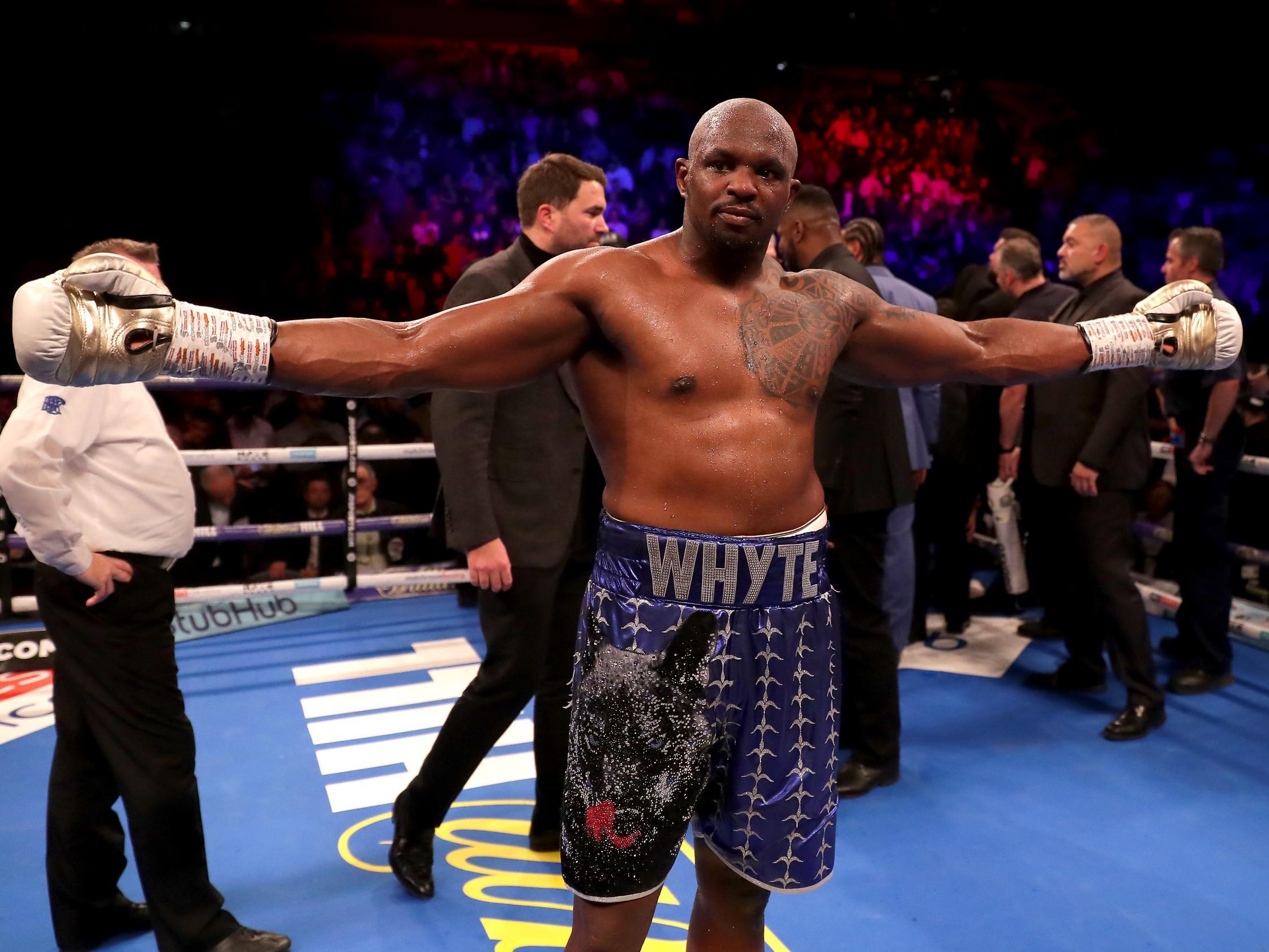 Dillian Whyte has revealed Dominic Breazeale as the number one option for his next fight after failing to secure a deal with Anthony Joshua.
Joshua, the unified IBF, IBO, WBO and WBA (Super) heavyweight champion of the world, has had a Wembley date booked for 13 April since September 2018 and looked set to face Whyte in a rematch of their 2015 bout but the pair were unable to reach terms and now look set to scrap the booking. He will instead face Jarrell Miller in what will be his US debut, with New York the likeliest destination.
Whyte, who called out Joshua in person after his knockout win over Dereck Chisora, was left frustrated that he would be made to wait for the opportunity to fight for a world title and is now looking for other avenues to get his shot.
Join Independent Minds
For exclusive articles, events and an advertising-free read for just £5.99 €6.99 $9.99 a month
Get the best of The Independent
With an Independent Minds subscription for just £5.99 €6.99 $9.99 a month
With Deontay Wilder set to face Tyson Fury for a second time, Whyte is hoping that a fight against WBC mandatory Breazeale will see him replace the American in the governing body's rankings – but should he fail to get the man he wants, has a backup shortlist at hand.
"I'm trying to get a certain Dominic Breazeale because he's the mandatory, even though I'm the number one challenger – which doesn't make sense," he said.
"So if I can get him in the ring and have a dust up with him and beat him, then I will become mandatory and Deontay Wilder will have to stop hiding from me eventually, but we'll see.
"If that doesn't happen I need to stay busy because I don't want to sit around and wait seven, eight, nine months doing nothing. I prefer to keep risking my position and keep fighting. It's dangerous and it's quite frustrating but I just want to be busy and keep entertaining the fans.
"It's dangerous and it's quite frustrating but I just want to be busy and keep entertaining the fans.
"Breazeale, [Alexander] Povetkin, [Luis] Ortiz, those kind of opponents. There's the four top guys, me, Joshua, Wilder, Fury, and then there's about another four guys underneath and I have to be careful who I fight because I don't want to take too much of a backwards step.
"I want to fight the other three guys that's above me. But at the end of the day I have to go just a little bit down and I think Breazeale is perfect. If not him, Povetkin, If not him, Ortiz."
Breazeale also confirmed that he would be open to negotiations but would prioritise a fight for the title if it became available.
"People have talked about it for a while. I am a fan-pleasing type of guy, so if that's what the fans want to see, I'm all for it," Breazeale said.
"At the same time, I'm not going to pass up opportunities to fight for the WBC title, to go down there to fight Dillian Whyte. I hope he does make some type of a deal. He can come here to the United States and he can get all he wants of Dominic Breazeale."
Keep up to date with all the latest news with expert comment and analysis from our award-winning writers