Katie Taylor: An honest heroine of her own success and a pioneer in women's boxing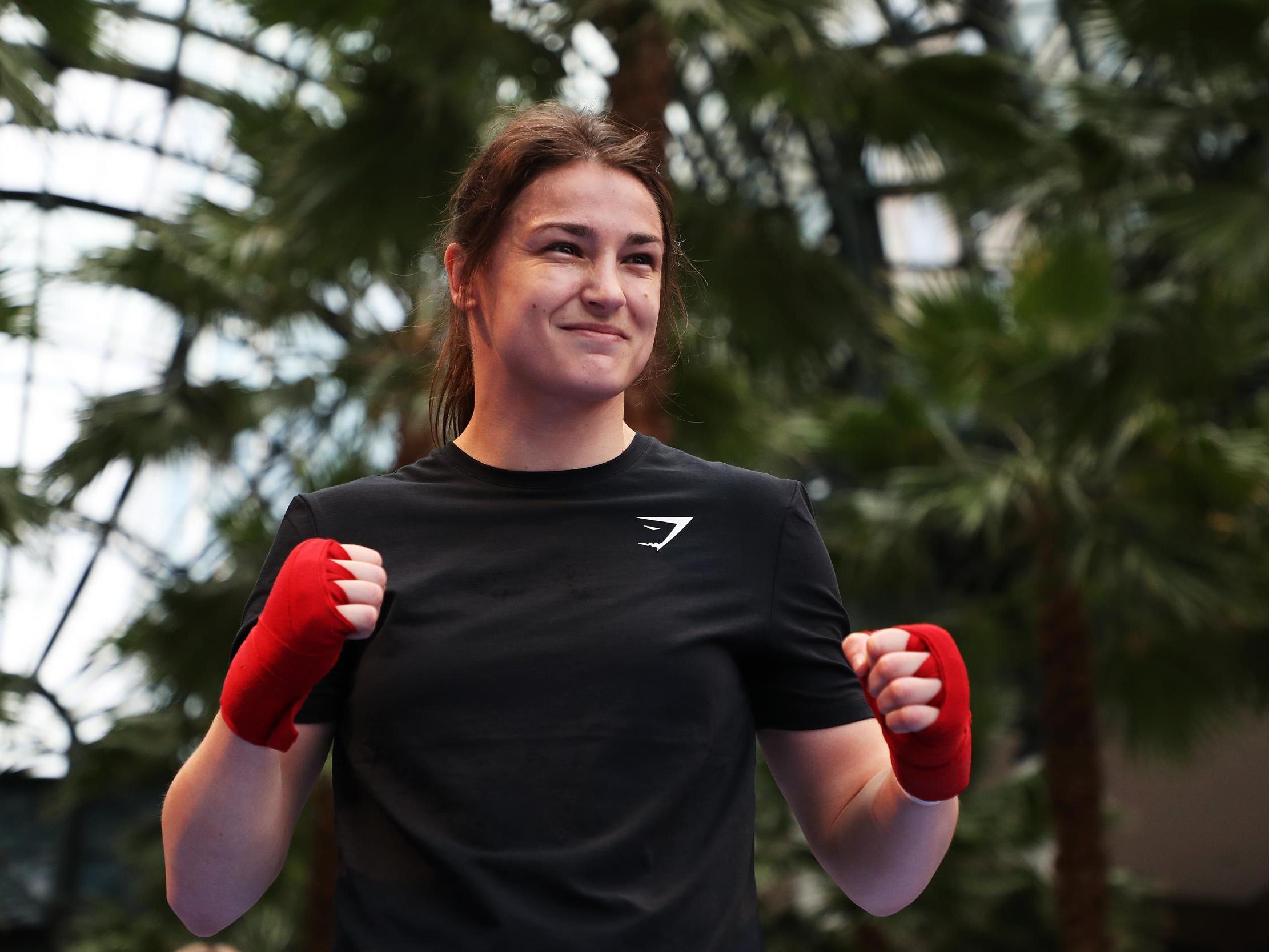 Fabulous Katie Taylor will climb through the Madison Square Garden ropes on Saturday night to alter the short history of error, hype, nastiness, prejudice and neglected skills in the world of women's boxing. 
Taylor is the brutally honest heroine of her own ring success, at times invincible and at other times, in moments of captured reflection, she can look as vulnerable as a lost and damaged child. A documentary about her life, including the private sorrows nobody has needed to ask her about, is harrowing at times to watch. It is equally brilliant when she is winning.
In Rio at the end of a bad Olympics and a horrible fighting year – she lost three times in four months – she stood in an isolated corridor, beyond tears, just staring back at words. Her bandaged hands wiped sweat, not tears, from her eyes and behind her vacant stare the fighting girl was trying to find answers to the dead Olympic dream. She could not speak, she would never forget that feeling or want to feel it again. That night she was a truly broken boxer, stuck in a land of obscene realities. She had fallen from invincible, lost three times, her beloved family was fractured and she was unable to find words. A few minutes later she did cry as she hugged her mother and sobbed. That is the dark moment Katie Taylor is fighting against.
On Saturday she fights Delfine Persoon, a Belgian police inspector, who trains the riot squad in her country and holds the WBC lightweight title. Persoon was a judo star, switched to boxing when she was too angry for tennis and has been in the police force 12 years and might just about be the most honest fighter I have ever spoken to. "I can't beat Taylor over three rounds, the amateur distance, but over 10 I can win – over 10 rounds it is a 50-50 fight," Persoon told me.
Persoon is not entering the ring carrying any type of flag, bearing any type of burden; Taylor is the anointed one and her shoulders are heavy. Luckily they are also broad. Persoon, the crime veteran, is concerned that she is not robbed if the fight goes to the judges, and I must say that the inspector has a decent nose for sniffing out a potential problem.
Taylor will lug her three world championship belts through the crowd at the venue, accept their roars with a smile, then start fighting and when she does that there should never be talk of how far the women's game is from the men's. Taylor, make no mistake, stepped over the solid barrier of hate, denial, reluctance and old-fashioned sexism a long time ago and after one Olympic gold, five World amateur titles, six European titles and 13 fights unbeaten as a professional she has nothing to prove. She reminds me more of Janet Guthrie than the few legitimate female pioneers that our sport has allowed. Guthrie drove the Indy 500, the first woman ever, and changed female sport in the Seventies and she, just like Taylor, also seemed blessed by the saints of patience when faced with the old horrors of prejudice.
Taylor follows a mixed list of female bruisers and wannabe bruisers in the elusive quest for acceptance. She knows she waves that flag with each win and each time she spots a small girl in a crowd waving back at her. At Tuesday's open workout, there were parents holding up tiny future Taylors for her to nod at and bless from the ring. That is what a pioneer does, that is the hidden burden Fabulous Katie has. The women before her rejected the vocation and insisted they fought for their rights, not to change the sport. 
"I only fight for Christy Martin," said the woman who fought on Mike Tyson nights in Las Vegas. In retirement and once the carnage of her marriage was over, Martin has pushed the female side of the ancient sport. In 2010 Martin was stabbed three times, shot under the heart, pistol-whipped with her own pink Glock and left for dead by her husband. She was certainly fighting for Christy Martin that day when she was rushed to intensive care.
Jane Couch was Britain's first legal female fighter, overcoming the British Boxing Board of Control in 1988 and getting a boxing licence; it was a full two years after winning her first world title one night in Denmark. "Nobody talked about what I done at the time," said Couch, who also liked to brag about boozing and fighting. The agenda back then was to be as hard as men, but sadly the comparison was with men that sunk ten pints and scrapped in a kebab shop at 3am. A lot has changed – including the dialogue of the women slugging for a living – and on Saturday Taylor is under scrutiny at a venue made noble in the boxing world by the sacrifices of men. She is not a novelty act, not a fake item to be tolerated.
The sanctity of the big room in the Garden is safe; Taylor and Persoon will not lack heart, desire or skill. It will be the first time Persoon has been allowed to wear eight-ounce gloves since 2010. A rule change in Belgium limited her to bulky 10-ounce gloves, but she has still managed to stop 16 of her opponents since then. "The pillows will be gone," she told me. The unification fight is beautifully poised.
"There are so many of us – we are mums, teachers, doctors and we all fight. There is great depth and it will last," said New York bruiser, Heather Hardy last year. She's right. It will last this time.