Tyson Fury threatens to 'smack' fan who chanted '10 German bombers' at Tom Schwarz press conference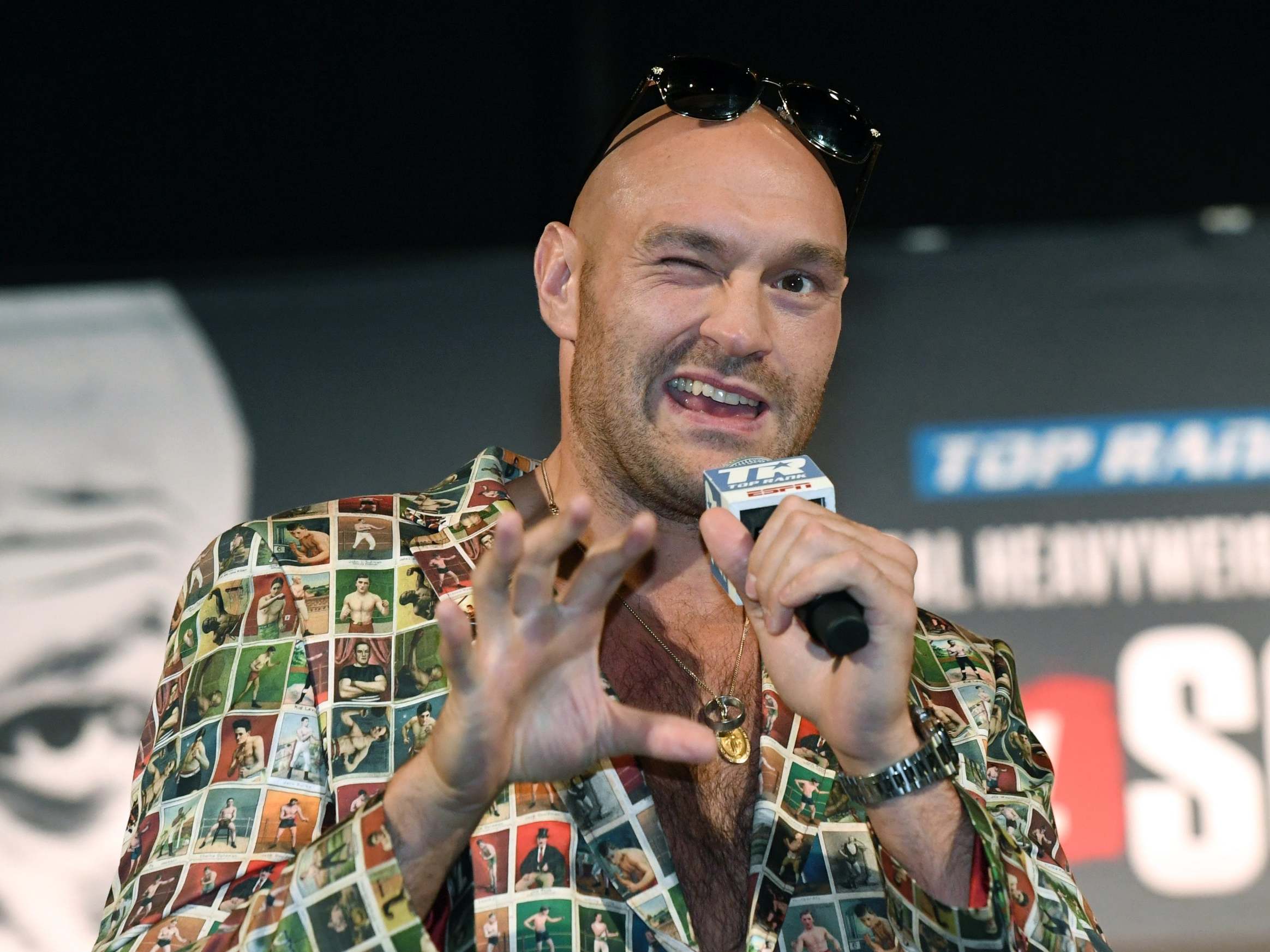 Tyson Fury threatened to "smack" a travelling British fan for chanting "10 German Bombers" at the final press conference ahead of his heavyweight fight against Tom Schwarz at the MGM Grand in Las Vegas.
The 'Gypsy King' defends his lineal heavyweight status against the undefeated German in the early hours of Sunday morning in what will be his first fight since his controversial draw with WBC champion Deontay Wilder last December.
But during a jovial press conference, where Fury sang on the stage usually occupied by magician David Copperfield, complimented his opponent's "good looks" and pretended to kiss him, he paused the press conference to tell a fan to "shut your mouth or I'll smack it in" after the chant was overheard while Schwarz answered a question.
The chant, originally sung by British schoolchildren during World War II, has been controversially adopted by travelling English football fans and led to some supporters being banned after chanting it during a 2017 friendly against Germany.
Once the fan was silenced, Fury continued with typically unstopping showman swagger to the delight of the Vegas crowd.
"When you look like this why can you not enjoy yourself?" Fury said. "The crowd have warmed to me. American people are coming up to me in the street looking to talk and get pictures. I'm actually quite surprised. It is quite humbling.
"Here we are in Las Vegas, MGM Grand, all the big fights happen here, seeing your face up on all the movie screens around the Strip is incredible.
"The fight with Deontay Wilder helped with my profile in the US but now this is the biggest fight of my life. I got a good reception from the Las Vegas people. It has been fantastic.
"I'm here to put on a show and I'm the newest show in town. I'm the hottest show in town – literally."
Fury hopes his comeback tale can continue to inspire others, having overcome depression and addiction to alcohol and drugs that followed his historic dethroning of Wladimir Klitschko back in 2015.
"Eighteen months ago I was in a very, very dark place," he said. "If you had seen me at that time I was very heavy and very unwell. I want to inspire people to change their lives and get well.
"I'm living my dream and I don't know many people who can say the same. I'm seeing my picture on all the screens and billboards, this is what I was born to do.
"The crowd have warmed to me and been very welcoming. I'm surprised, people who don't speak English, who don't even watch sports are asking for photos and wanting to talk. It's quite humbling."