Eddie Hearn claims Anthony Joshua vs Andy Ruiz can 'break down barriers' in Saudi Arabia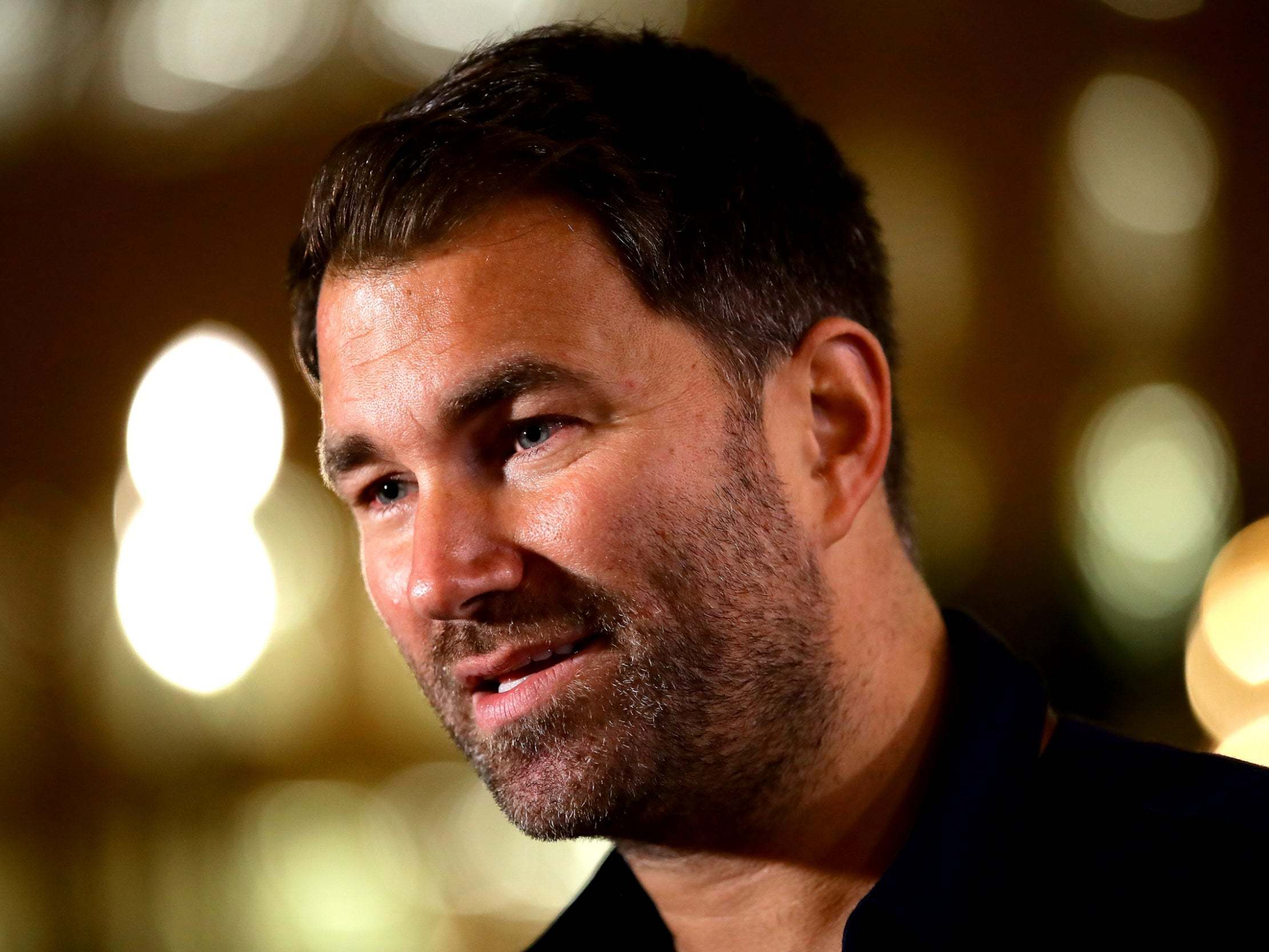 Eddie Hearn, the man behind Anthony Joshua's money-spinning Middle Eastern debut, sidestepped questions about Saudi Arabian 'sportswashing' but predicted that Saturday's world heavyweight title fight will usher in a new era for the region.
Joshua is set to bank upwards of £50m for taking on WBA, WBO and IBF heavyweight champion Andy Ruiz in the 'Clash on the Dunes' in Diriyah at the weekend in the rematch of their New York classic back on June 1.
Eyebrows were raised when the beaten Londoner decided to give away home advantage for the biggest fight of his life in order to become the first man in history to challenge for a world heavyweight title in the Saudi Arabian desert.
What's more, it has been suggested by Amnesty International and others that the whole encounter, part of Diriyah Season, is the latest example of so-called 'sportswashing' whereby the government attempt to lure major events to the country in a bid to help distract attention from the kingdom's ongoing human rights issues.
Hearn, however, insists he is not qualified to comment on the accusation but instead deliver the best deal possible for his fighter. Joshua, whose previous best payday was the £18m he pocketed when losing to Ruiz in June, has not complained.
Instead the Essex-based promoter believes Saudi's General Sports Authority are instead attempting to use the sport as a force for good which will result in yet more millions being pumped into attracting the biggest names in boxing to the desert.
"The people I am dealing with, I believe, have very good intentions for the sport," Hearn said. "I know they do, they are mad boxing fans and they want to use the sport to develop in this territory.
"I was with Prince Khalid here, who put everything together. Boxing is opening doors over here, they are using boxing to break down some barriers. There are going to be big programmes coming into school next year for under-privileged kids. He is a very passionate guy about boxing.
"I have seen work going on behind the scenes into boxing, into grassroots, and they have done an amazing job. Not just kissing their a**e but they have done an amazing job; the logistics, the teams, stadium, they have delivered on everything they have said.
"I was driving up looking at House of Fraser. Go into the Mall, Gucci, Chanel, Starbucks – major corporations willing to trade here but we can't accept a deal to have a fight with another man in the most brutal sport because of someone's opinion on sportswashing? Tyson Fury came here with WWE and no one raised an eyebrow. Formula 1, European Tour, they're all coming here too.
"[On sports washing suggestions] I can't just sit here and say 'it's nothing to do with me, I'm just providing for my fighter 'but I am not a politician, and as ruthless as it is I've got a job to do for my fighter. It really doesn't matter what I think but I can tell you I'm happy and excited with the deal and with how it's gone and with what I see behind the scenes."
Having already staged George Groves against Callum Smith in the final of the World Boxing Super Series plus Amir Khan's victory over Billy Dib earlier this year, the Saudi's move into boxing is clearly an aggressive one. Now Hearn says they have already set their sights on the most significant fights on the planet as part of their short-term vision. Given the money on offer, he believes the strategy is unlikely to fail.
"Nowhere can compete with this region for money," he said. "Not even close. Not Vegas or anywhere else.
"I believe it will be two fights a year but it's got to be significant for them. There's Mayweather-Pacquiao. There are loads of Filipinos in Saudi Arabia so Pacquiao is a fighter they'd love to get here.
"They'd love Wilder-Fury, who I believe they had discussions about, there is a potential third fight there. The one they want more than anything is Joshua against Wilder."
For now, the main financial benefactor is Joshua, who will not only earn a colossal fight purse, the biggest ever by a British boxer, but also cash in as a result of the Sky Sports pay-per-view revenue, which is set at £24.95.
"I expect this to be the best selling pay-per-view ever," Hearn added. "Mayweather-McGregor is the record but the biggest involving a Brit was Joshua-Klitschko which was 1.21 million buys. This will do more than that. It will come off the back of the Manchester derby, straight in, it's perfect.
"There will be around 3,500-4,000 Brits in the arena. That can include British people from Dubai or wherever as well. I don't know the number who are flying out, that is the number of British people who have bought tickets.
"They are telling me the tickets are 70-80 per cent gone, but everyone buys late and they haven't been pushed out to the Saudis yet.
"In an ideal world, the money could be generated in a region where there is a bigger fanbase but people fail to understand the process. I sit down with my client, put all the potential options on the table and then it's up to them to decide.
"Money is a major factor in a sport as brutal as boxing. There comes a time where you have to look at the financial side. What do I do? Sit down with AJ, present him all the options but say 'I'm not comfortable with this one' [Saudi].
"He'd say: 'well I suggest you f**k off."