Anthony Joshua vows to become 'low-key' champion after labelling first reign a 'f*****g headache'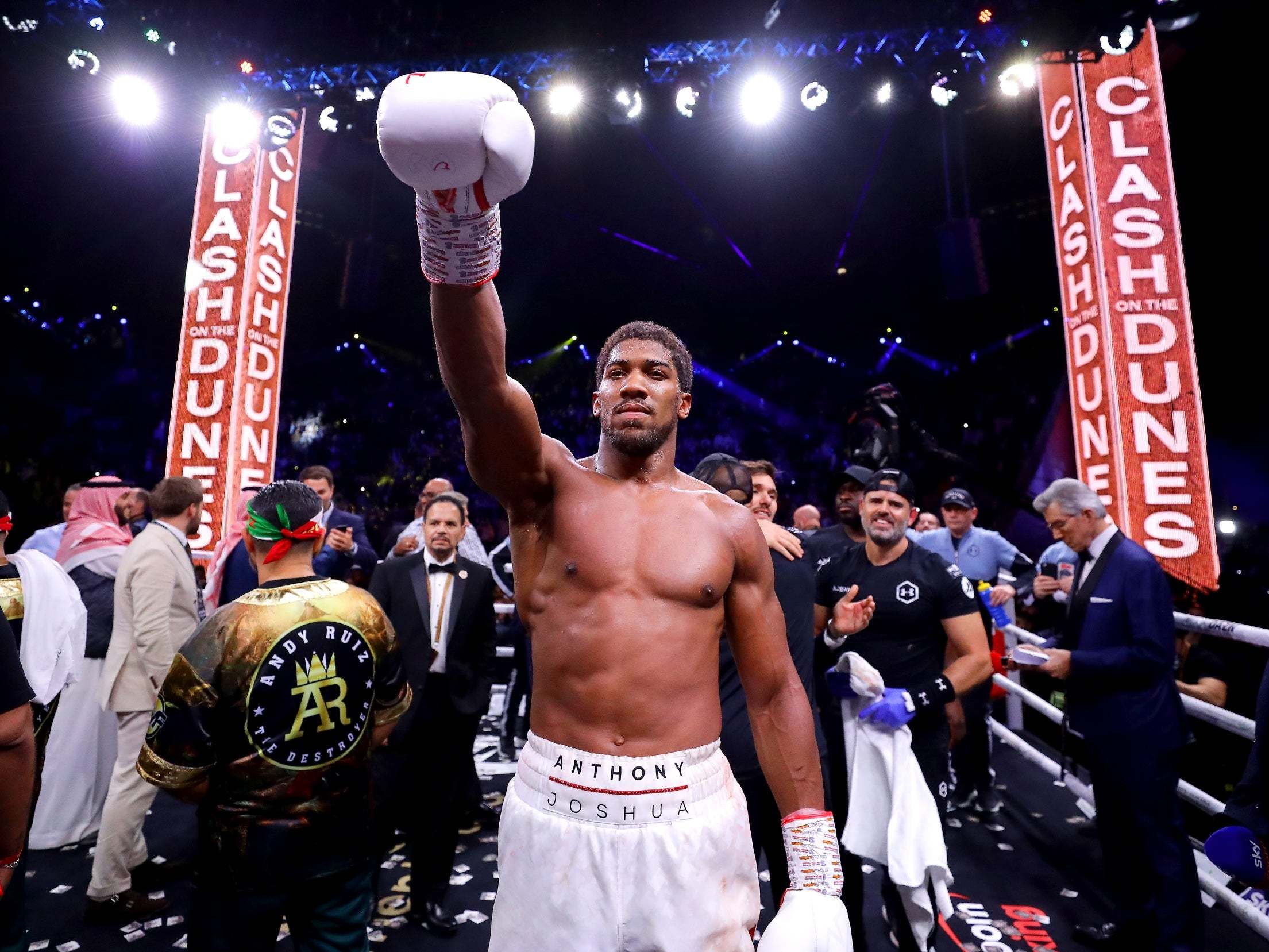 Anthony Joshua vowed to become a more low-key champion the second time around after admitting his first title reign became little more than a "f*****g headache".
The Londoner reclaimed the WBA, WBO and IBF heavyweight titles by virtue of a lopsided unanimous decision victory over Andy Ruiz Jr in their anticipated rematch here in Diriyah, Saudi Arabia.
Victory will have helped exorcise the demons from 1 June, when the Mexican-American produced one of the biggest shocks in modern boxing history as he stopped Joshua inside seven rounds at New York's Madison Square Garden.
But after becoming two-time heavyweight champion of the world, Joshua insists he learned a lot from his first spell in possession of the trio of belts, which began when he beat Charles Martin in April 2016 and lasted six defences before he was dethroned by Ruiz.
"The belts can be your best friend or your worst enemy," Joshua said. "It just depends on you as a person. Even at the weigh-in when I gave him the belts [before the first fight], I was just tired of them, it's hard being champion. Trust me, it's not all fun.
"I just remember hearing Mike Tyson telling people 'you couldn't walk in my shoes'. It's not all what it seems; it's a life of discipline, dedication and f*****g headaches."
Ruiz, who became the second heaviest man ever to defend a world title when he came in at 20st 3lb, admitted that he blew his chance of beating Joshua for a second consecutive time because he 'partied too much' in the interim.
Joshua's fellow Brit Tyson Fury, meanwhile, failed to ever defend the belts he won from Wladimir Klitschko back in November 2015 due to a much-publicised battle with drink, drugs and depression. But Joshua, 30, gave an insight into how he plans to ensure his second stint on the throne does not become toxic.
"It's more low-key," he added. "It's not the show any more. I'm here just to take over. We've promoted the hell out of boxing in a short space of time. Now I just want to focus on fighting, being a better fighter.
"I'm always going to have to prove myself, aren't I? That's the name of the game. Over the next three to six months, I'm going to have to do it again.
"It's no good winning this time and losing next time, saying, 'Look, I won six months ago, let's look at that.' Even though I've proved it to myself, I'm going to have to prove it to you guys once again. I can't get too comfortable.
"But I knew the belts were coming home. They spent some time with me and they spent some time in Andy's house, and they were crying to come back to daddy."
It is estimated that pay-per-view figures on Sky Sports Box Office could push Joshua's total earnings from his Saudi sojourn over £50m, thanks mainly to the site fee coughed up by the General Sports Authority here in the Kingdom.
Such an incredible purse, which is nearly treble his previous best, will make it hard for Joshua or any other big-name fighter to resist the lure of the desert in future with the traditional venues in places like London, Las Vegas and New York simply unable to offer similar figures.
But, when asked whether Saudi could become a permanent fixture on his boxing calender, Joshua said: "I don't know, man. London's calling. We've been away for the whole year, in New York and now here. But it's nice to have a breather. It's nice to have a bit of controversy, a bit of doubt.
"It just shows that British supporters do play a big part in my career. Any time I'm on home soil I can't lose. I stepped away and I took my loss, and I put myself together.
"I've been out here for two weeks. I was out for five weeks before, got too comfortable. Now it's back home to Finchley, back home to Sheffield, back to the grind. Being back on home soil will make a big difference."
Almost as soon as his hand was raised in centre ring at the Diriyah Arena, talk turned towards what Joshua might do next with Deontay Wilder and Fury, the other two men with a legitimate claim to be the best in the division, seemingly set to clash in February.
But having spent so long discussing the towering pair, Joshua decided against mentioning their names when asked who he wanted next.
"Who do I want next? The guy with the belt. People speak about me negatively but I'm not speaking about them. Not today."